Chedid Capital Holding (Chedid Capital) has acquired 80% in ASCOMA's (Ascoma Assureurs Conseils) insurance brokerage business in Africa – a network of 21 subsidiaries and 780 employees across 21 African countries, with an office for international affairs in Paris.
The acquisition deal, signed on September 25, currently pends regulatory approvals, and entails the sale and transfer of ASCOMA's African activities to Chedid Capital. The Husson family, which launched ASCOMA's African operation in 1950, remains involved in the transition and future of the newly formed entity as a 20% shareholder. The family will also maintain its insurance brokerage activities in Monaco and France.
The transaction marks a milestone for Chedid Capital's expansion into the African continent, and vision to lead insurance brokerage in the MEA's (Middle East and Africa) high-potential markets. For ASCOMA, the acquisition translates into a stronger African network and offering, capitalising on Chedid Capital's strategic, technical, and corporate governance capabilities, as well as international footprint and expertise.
Hervé Husson, currently the President at ASCOMA Group, said:
"We are happy to maintain our position as significant shareholder in Sub-Saharan Africa's leading independent brokerage player. ASCOMA will continue to independently serve its partner brokers and clients in Africa, leveraging our robust network of 21 subsidiaries that offer full-spectrum insurance solutions across all 54 countries of the continent. Ascoma International and Pactilis will retain their development and coordination responsibilities on international insurance programs and health management out of our Paris and Casablanca operations.
This is quite an emotional and historic moment in our family's journey. We salute all teams who have worked hard for the past 70 years, to build ASCOMA's heritage as a partner for Africa."
Chedid Capital Holding is a global investment leader in the insurance and reinsurance fields, with a sizeable footprint across Europe, Africa, the Middle East, and Asia through its subsidiaries Chedid Re, Chedid Insurance Brokers, and City Brokers. The ASCOMA acquisition, which falls under its subsidiary and leading MEA insurance brokerage business, Chedid Insurance Brokers, further reinforces its leadership in the African continent.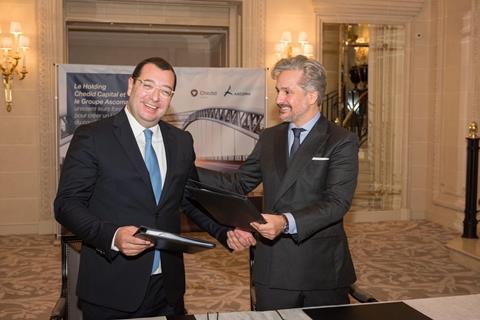 Farid Chedid, founder at Chedid Capital Holding, added:
"The acquisition of Ascoma is part of our global strategy to create an insurance brokerage leader in Africa and the Middle East, and to offer these markets a complete range of insurance solutions.
We believe that beyond the market development and commercial synergies, the experience, know-how and governance of both Chedid Capital and ASCOMA will give shape to our ambitious Group in the interest of our clients, partners, and team.
We share with the Husson family a passion for brokerage and strong social values, centered on our commitment to empower youth within the industries and communities we serve. ASCOMA will keep the name it has earned throughout its history in Africa – a success legacy that 700 employees built across the continent.
I am proud and happy to see our shared ambition bear fruit in the creation of an independent insurance brokerage leader in the Middle East and Africa."