Speaking at the inaugural DWIC event, the cyber thought leader shared his opinion on the new technology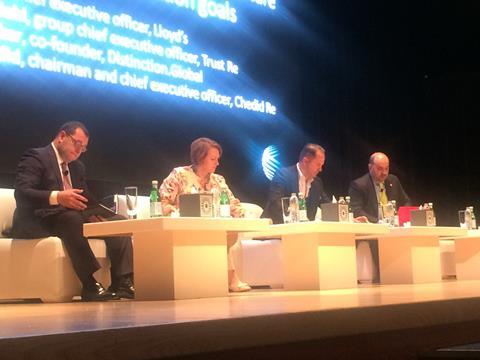 If global regulators cannot create a cohesive response to blockchain then regulation should be reduced, according to Peter Hacker.
Speaking at the inaugural Dubai World Insurance Congress (DWIC), Distinction.Global co-founder Peter Hacker said that the biggest challenge for global regulators tackling blockchain was in finding an aligned approach; without this, enforcement would be impossible.
"The challenge as far as regulation is concerned - particularly with regard to data regulation and directives - is that there must be alignment and there must be enforcement. Currently there is not. So do I believe there should be a lot of regulation for blockchain technology - no I do not."
Hacker was part of a DWIC day 1 panel session, 'Where is insurance heading? Identifying the key disruptive trends in (re)insurance and how to tackle them'.
Also on the panel were Lloyd's chief executive Inga Beale, Trust Re group chief executive Fadi AbuNahl, and Chedid Re chairman and chief executive Farid Chedid.
While Hacker believed that without a cohesion from the regulators with regard to blockchain regulation should be minimised for the insurance industry, Chedid highlighted that insurance was down on the regulators list.
"The biggest challenge for blockchain with the regulation is with the banking industry. We come second."
Beale, pointed out that the industry had a long way to go with regard to tackling this innovation.
"One of the biggest barriers for the industry is that we don't fully understand blockchain yet."
The discussion is likely to continue into day 2, which is set to take a deeper dive into InsurTech.