London Market Group carry out proof of concept tests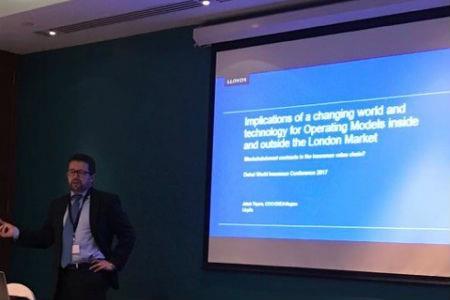 Maturing technology and few experienced practitioners have been identified as two main caveats preventing a quick implementation of blockchain in the insurance value chain.
But Jakob Thyme, regional manager EMEA operations, Lloyd's said there is also plenty to be optimistic about.
During the first 'Innovation Lab' at the inaugural Dubai World Insurance Congress (DWIC), Thyme discussed the implications of a changing world and technology for the London Target Operating Model (TOM) inside and outside of London.
Part of the work happening around the TOM has involved two proof of concept 'experiments' involving blockchain technology.
Having identified what issues and cases blockchain technology can help solve, including financial services, risk management and payment proof, the concept work has been focused on the claims bordereau submission process and the delegated authority coverholder application (Know Your Client) process.
Although the 'experiments' did raise a few caveats, the opportunities outweigh these, said Thyme.
"Some of the learning and key messages we were able to take from the two proof of concepts make us feel really positive," he said.
"There is no doubt that this technology provides an opportunity to rationalise and reshape inefficient processes, support both peer to peer and centralised interactions and reduce reconciliation costs and addresses version control issues," he said during his presentation.
He added: "Significantly, the technology is resilient with no single point of failure."
However, putting a timescale against turning these proof of concepts into a reality remains unclear.
"If we want to make the revolutionary changes, this could take multiple years," said Thyme. "It's the incremental changes we can start making now, but ideally, we want to be implementing strategies for both the revolutionary and incremental and run them alongside each other."
Focusing on the London Market in particular, he added: "The London Market needs to modernise to get the basis right, ensuring all files hidden away in cupboards are stored electronically and it becomes properly digitalised.
"Then we can make the revolutionary changes".