It is time to take full advantage of the workplace transformation in health and wellbeing
Companies and staff can greatly benefit if they take full advantage of the workplace transformation in health and well-being.
That was the message from a Dubai World Insurance Congress 2022 roundtable discussion on advancements in digital health, and health and wellbeing in the workplace, sponsored by CME.
One roundtable member said creating well-being in the workplace would not be easy, as society shifts post-pandemic to more home working.
Three steps to a healthier workforce
To create a healthy and mentally happy workplace, firms needed to successfully to do three things, he said.
Firstly, a well-being programme needs proper funding, secondly a clearly defined and motivated staff responsible for managing health and well-being, and finally, engagement from the top hierarchy in companies.
He had confidence many firms would achieve success, meaning a future of 'healthier employees who are more motivated and dedicated to their work'.
Another participant said the workplace transformation was a moment of great societal change.
The battle for talent means companies have to get health and well-being right, or, they would struggle to retain and recruit the best workers.
"It is a sellers' market. It is a talent market. Usually, corporations are in the stronger negotiating position with the workforce," he said.
Health and IoT
The conversation then moved onto health wearables, focusing on what it takes to gain take up and interest from customers.
One roundtable panellist, who had lots of experience in the technology, said the big ingredient to success was having a fluid application that the customer can use quickly and easily.
Then it was about creating a social effect. The social effect is employees, family and friends comparing themselves against each other on health data.
The final part was gamification. For example, a person receiving extra points, or even rewards, if they complete health objectives.
The roundtable participants agreed that digital health can create a better future by optimising preventative care. One said: "Prevention, prevention, prevention. That is what where we should strive."
"Rather then insurance companies being worried about how we can manage claims, it is better we prevent claims happening."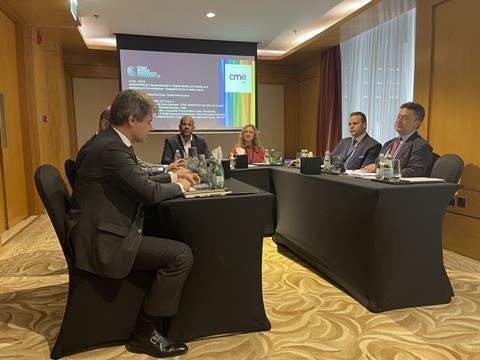 ROUNDTABLE | Advancements in Digital Health and Health and Wellbeing in the workplace - Engagement for a better future
Brad Boyson Co-founder, HR Learn In
Helen Yates Conference Chair, Global Reinsurance
Maciej Tomaszewicz Director – Insurance Transformation Lead, Deloitte ME
Georges Rehbane Dubai General Manager, CME
Mahmoud Shalab Head of Health Insurance Department, Union Insurance Company
David Amehame Regional Sales Manager - Fitbit, Middle East and Africa at Google
Mazen Abouchakra Managing Director, Regional Director Life/Health Dubai, Gen Re
DWIC 2022: 800 delegates flock to conference
1

2

3

4

5

Currently reading

DWIC 2022: Why prevention is better than cure

6

7

8

9