Inherent issues with the Takaful model continue to hinder the market's development in the GCC
Inherent issues with the Takaful model – including a conflict between funds held for participants and shareholder funds – continue to hinder the market's development in the GCC market.
This was the conclusion of the participants speaking on the Takaful Debate Roundtable discussion on day two of the Dubai World Insurance Congress 2022.
The discussion, sponsored by Africa Re DIFC, considered why Takaful insurance had failed to mature despite being around for 40 years or more. Most speakers agreed that ultimately, it was the design of the model that was to blame, because it poses a challenge for regulators.
The slow growth of the underlying market is also the reason why so much retakaful capacity has disappeared from the market in recent years. The appearance of 'retakaful windows' is helpful, but dedicated subsidiaries are what is needed, thought the speakers.
They pointed to Takaful models in Morocco and Turkey, which have simplified the model and incorporated some of the lessons of the past. Takaful operators in these markets are also focusing on personal lines, where there is a clear business case and purpose.
Learning the lessons
There was no reason, thought participants, that such models cannot be adopted within the GCC.
An analogy was drawn between the success of mutual insurance models in other markets and how takaful could ultimately differentiate itself and offer wider choice to customers.
Once providers are clear on the value proposition of takaful, the market will realise its potential, thought the panel. Ultimately, this form of insurance is not about Shariah compliance or generating profits for shareholders. It's about giving the market freedom of choice.
Microinsurance is an obvious opportunity to explore moving forward, with the principles of takaful lending itself perfectly to the concept of increasing financial inclusion. But success will depend upon the ability to digitise.
Risk sharing is one way of achieving that goal and overcoming the burden of capital requirements, as well as realising better purchasing power from the reinsurance markets.
"Takaful needs to be about risk sharing rather than risk transfer," thought Datta. "The model needs to change. We are learning but how quickly are we turning this learning into action?"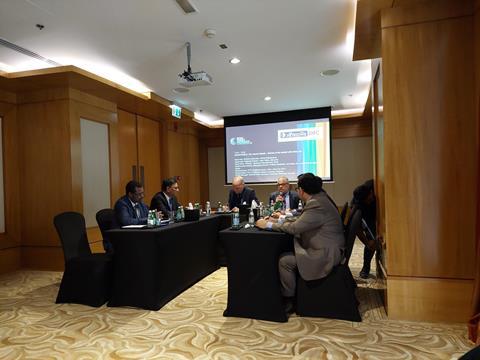 DWIC 2022: 800 delegates flock to conference
1

2

3

4

5

6

7

8

Currently reading

DWIC 2022: Why takaful needs an overhaul

9