Reinsurance broker Gallagher Re said its estimate of $22bn in insured natural catastrophe losses for the quarter showcase "a significant protection gap".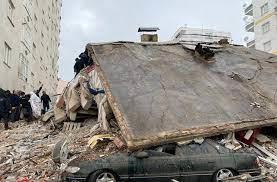 Global natural catastrophe economic losses reached a 12-year high in the first quarter of 2023, reinsurance intermediary Gallagher Re has reported.
The total economic loss worldwide for all natural hazards was estimated at $77bn – the highest first quarter amount since 2011.
This above-average economic loss figure contrasts with $22bn of insured nat cat losses for the quarter.
Gallagher Re said this showcased a "significant protection gap" of $55bn (72%), between the economic cost of natural disasters and the industry's risk transfer role.
First quarter natural disasters included the powerful and devastating earthquakes that struck parts of Turkey and Syria in February, as well as severe convective storms (SCS) that have hit the US Midwest.
"The Turkey earthquake sequence was a difficult reminder of the significant vulnerabilities that exist to life and property from seismic events," said Gallagher Re Chief Science Officer Steve Bowen.
The February Turkey and Syria 'quake events accounted for an estimated $45bn in physical damage costs, the broker said; total insured losses were anticipated to approach $5bn, the biggest industry loss for the Turkish market on record.
When looking solely at weather or climate-related catastrophes – which excludes the earthquake peril – economic losses were minimally of an estimated $31bn, and public and private insurers covered slightly more than half of those losses, at$17bn, Gallagher Re reported.
The bulk of the losses were associated with record first quarter SCS activity in the US, with economic losses at more than $13bn and insured losses at more than $10bn, a prolific series of Atmospheric River events in California, plus historic flooding in New Zealand, and ongoing major drought conditions across South America.
Bowen said: "As the private and public sectors work together to develop a more resilient and adaptive society to current and future climate change risk, it is imperative that all natural hazard types, and not just weather or climate perils, are considered in the planning discussions.
"The high-dollar loss costs observed in Q1 2023, including those from notable thunderstorm and flood-related events, were marked by notable gaps in insurance coverage across both developed and emerging economic territories. This highlights the continued opportunity to develop tools and products that not only identify or quantify risk, but to make meaningful strides to ensure equitable protection for communities around the world," he added.
La Niña to El Niño
Above average global temperatures and the transition from the La Niña to El Niño weather patterns influenced weather events across the globe, Gallagher re highlighted.
Global land and ocean temperatures during the first three months of 2023 ranked as the fourth-warmest since 1850, according to the US National Oceanic and Atmospheric Administration.
There were also distinct differences in precipitation extremes with parts of Asia, Europe, Latin America and North America that saw a continuation of limited precipitation that exacerbated severe drought conditions.
Other areas, such as parts of the US, Africa, Oceania and the Middle East, registered record-setting rainfall that prompted widespread and significant flooding.
A key consequence to expect from the transition from La Niña to El Niño is the warming of global surface temperatures as well as global precipitation and tropical cyclone patterns.
"For the re/insurance industry, El Niño brings a pivot in terms of physical loss and humanitarian impact potential around the world," Bowen said.
"Since El Niño correlates to warmer surface conditions, this allows for more volatility in weather patterns that can prompt floods to be more prolific and droughts to be more intense.
"This puts specific pressure on written agricultural insurance products or those in development. Additionally, an increased frequency potential of tropical cyclones in East Asia may bring higher regional catastrophe losses," he added.
You can download the full report, here