Civil unrest in Paris and across France resulted in 11,300 claims, with commercial property accounting for 55% of the claims cost, according to a French insurance industry group.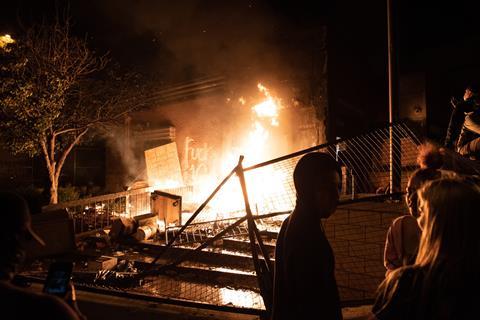 Ten days of riots across France in late June early July resulted in some 11,300 insurance claims, according to France Assureurs.
The insured loss, the industry body said, amounts to an estimated €650m, as of 3 July.
"Since June 27, our country has been confronted with scenes of urban violence and looting of unprecedented intensity," said a statement from France Assureurs.
"France Assureurs and its members express their support for all the victims of these events. Insurers are fully mobilized to support their policyholders whose property has suffered damage as a result of these riots."
The insured cost of the recent civil unrest experienced across France is already triple the value of claims caused by four weeks of French riots in October and November 2005, France Assureurs said.
The first days of claims were motor claims for damaged vehicles, but commercial property has accounted for 55% of the claims in cost terms, and claims on government and local authority property accounted for another 35%.
The 2005 riots were disproportionately focused on vehicle and fire damage, and caused €204m in claims.
President of France Assureurs, Florence Lustman, said: "Since June 27, and for almost a week, France has faced scenes of exceptional violence.
"I would like to express my support for all the victims of these events, some of whom have seen their life's work destroyed. My support also goes to all the mayors of our communes, on the front line in the face of these riots.
"90% of the cost of this urban violence relates to the 3,900 properties of professionals and local authorities affected. The nature of the losses linked to the violence of the last few days is therefore very different from what our country experienced in 2005," Lustman added.