By Leonardo Garzon, managing director, Latin America and Joe Jarvis, regional senior adjuster, at claims services provider McLarens.
Across Latin America, political protests and violence have led to significant claims for insurers and reinsurers for many years.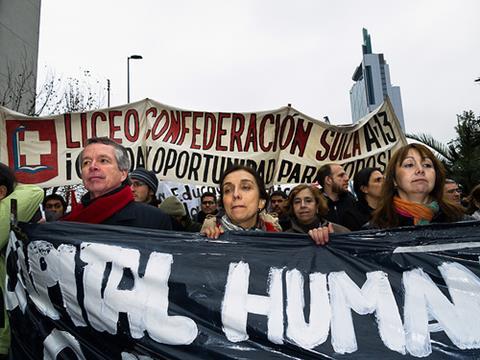 Current protests show no signs of abating, and the resulting claims can be both complex and costly. So, what are the issues at play? And how can international reinsurers work with local carriers and claims professionals to address these challenges?
What's the issue?
While there have been protests in Latin America for decades, since 2019 there have been widespread protests across Chile, Peru, and Colombia and demonstrations in Brazil and Ecuador. However, the reasons for these demonstrations have differed.
In Chile and Colombia, what began as one-off marches became broader social protests because of a lack of social mobility and unpopular or unsuccessful government action.
Meanwhile, in Peru, allegations of vote fraud after the election of President Castillo, the subsequent impeachment of Castillo, the response from security forces, and long-running, ethnic divisions in the country have led to ongoing political protests and violence.
While some Latin American countries have been divided for decades, the pandemic exacerbated this discontent.
In several countries, the social programmes people need or have been promised, have been beyond the capacity of governments to provide. Regional governments have increased retirement ages and raised taxes.
The impact on claims
In Chile, Colombia and Peru, McLarens is currently handling claims for protestors targeting property or machinery owned by foreign companies and the state, with slight variation from country to country.
For instance, in Peru, protestors have focused on government-owned buildings, including police stations, airports, toll booths and state-owned petrol infrastructure.
Widespread anti-government protests have also disrupted industries such as copper production. Peru is the world's second-biggest producer, and accounts for about 10 per cent of global supply.
The country is also a large producer of gold, zinc and tin and several mines have had to suspend operations because of protests and political disruption.
Agricultural businesses have also been impacted, with the country's leading industry association estimating that $300 million in exports were lost earlier this year following protests in December 2022.
In Chile, the focus is often on commercial entities such as supermarkets, industry and other private enterprises. Many claims are for machinery, plant and equipment where protestors have damaged Caterpillar vehicles, often costing upwards of $250,000 each.
The situation in Colombia is developing, so it's too early to say. In addition to property and infrastructure damage in the main city centres, we are beginning to see damage and destruction in rural areas often centred on mines, farms and oil exploration, extraction and production businesses.
For reinsurers, there are two instances which might create an impact.
First, there are instances of treaty insurance when a portfolio of losses reaches more than $100 million. At this point, reinsurers become party to the claim.
Second, with direct insurance, there is an immediate impact. While a local fronting company may hold 1% of the risk, an international reinsurer often holds everything over the deductible. Here, the reinsurer will get involved in the loss immediately and appoint a regional adjuster to oversee local parties.
The issues adjusters face with local parties
Adjusters often face several issues when dealing with local parties to settle the claim for reinsurers.
Most common, there is often a lack of specialist expertise with local adjusters on the ground. Local adjusters often have great general experience but whereas many international adjusting firms have developed specialty service lines, local firms may not have the expertise and perhaps experience required to adjust claims related to political protests and violence.
For instance, reinsurers will need proof that a claim is related to political violence. But a local adjuster may not understand the difference between this and a more general property claim. Deciding the motive is critical to political cover where the policy wording is both specialist and nuanced.
Adjusters on the ground are not helped by the discrete nature of the losses, with claims often spread over a vast geographical area.
What's more, there are sometimes issues around deciding the quantum. Here, reinsurers must know that the right specialist is involved to ensure the value is correct. However, local adjusters often do not get specialists involved in the claim early enough to ensure accurate values.
The impact on reinsurers
As a result of these issues, global reinsurers face several consequences. First, they are often working with imperfect information. Such information makes reaching a conclusion and settling a claim more difficult.
Second, claims can take a long time to solve. While the size and complexity of the loss impact the time, the inexperience of the local adjuster can prolong the claim process requiring more details discussions.
When there is imperfect information and an extended timeframe, global reinsurers may need to appoint lawyers, which incurs additional costs.
What's the solution?
To help prevent these issues from impacting reinsurers, we need to ensure coordination and interaction from the start of the claim to get the information flowing.
This will always require a flexible approach depending on the circumstances and the claims process realised to date, but clear and open communication is fundamental if the necessary information and documentation are to be obtained. Experience has proven to be critical in this regard.
At times this will require that the local adjusters are pushed to get the evidence needed to assess a claim, particularly where there are differences in local and reinsurance policy terms, which may be met with friction if beyond the investigation that had been foreseen. This can also mean involving the correct specialists, such as engineers and experts, involved early to ensure the quantum is correct.
Moreover, we must involve reinsurers at the right time, which helps ensure claims are settled promptly and satisfactorily for all involved.
What's next for Latin America?
While the current political protests and violence will ebb and flow, the political situation in many Latin American countries remains unstable. Swings between left-wing and right-wing parties are likely to continue. Corruption, economic challenges and criminal and drug-related violence will likely remain endemic.
Alongside this, the amount of money invested in Latin America continues to grow. Investments by government and foreign companies continue to rise as they seek to extract more resources and materials essential for the modern economy.
As a result, insured losses of this nature will only get larger. Against this context, it's even more critical that global reinsurers understand the issues around assessing political protest claims and how they can best overcome them.