Almost half of execs expect an uptick in mergers and acquisitions, with technology, media and telecoms expected to be the most prolific sector for transactions, according to an Aon, Mergermarket study.
An increase in alternative financing and scrutiny for Environment, Social, Governance (ESG) factors are expected to lead an "uncertain M&A market", according to survey published by Aon and Mergermarket.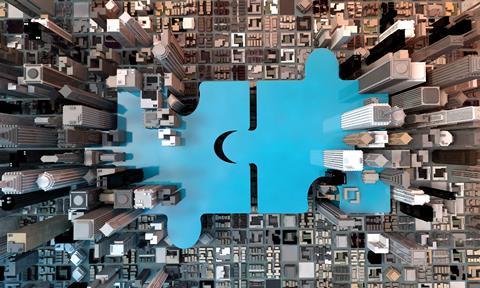 Nearly half of respondents (46%) expect the number of deals globally to increase over the next 12 months compared to 2022, while a fifth (20%) expected consistent deal traffic.
Some 96% of respondents expect ESG scrutiny in deals to increase over the next three years, including 48% who expect it to increase significantly. In addition, 24% said environmental litigation creates the most concern in respect of potential disputes in a deal.
Some 68% of respondents identify Technology, Media and Telecom (TMT) as likely to be the most prolific generator of M&A activity over the next 12 months.
Conversely, the financial services sector is forecast by 32% of respondents to be the least prolific sector for dealmaking, said the survey of 50 senior executives from corporate development teams, private equity firms and investment banks and dealmakers.
"By taking this broad view of the M&A landscape, dealmakers are better able to understand and respond to critical risks that can have an impact on a deal's success," said Gary Blitz, global co-CEO of Aon's M&A and transaction solutions business.
This does not necessarily mean that sailing will be smooth – from climate, tax and cyber risk to market dislocation and geopolitical uncertainty, rarely before have M&A strategies had their mettle tested by such varied forms of volatility simultaneously, the study noted.
Some 72% of respondents expect financing conditions to worsen compared to 2022, including 38% who expect them to become much more challenging.
In response, dealmakers are turning toward alternative financing sources, including private equity (64%) and non-bank lending (38%), according to the research.
Dealmakers should be proactive in controlling whatever risks they can, install mitigation plans for those outside their direct influence and use risk transfer solutions when available, the report suggested.
"Dealmaking is about balancing risk and return," said Alistair Lester, global co-CEO in Aon's M&A and transaction solutions business.
"With strong risk mitigation processes in place, including a multi-disciplined approach to due diligence and the strategic use of insurance capital, dealmakers are able to transform their risk into opportunity to improve their deal outcomes."