The figures, low percentage of total estimated damage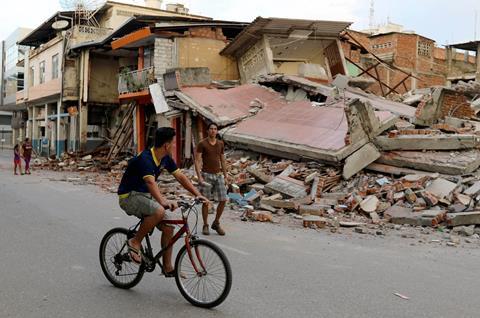 Catastrophe risk modelling firm AIR Worldwide provided the first (re)insurance industry loss estimate for the recent M7.8 Ecuador earthquake which is at the moment thought to be somewhere in between $325m and $850m.
The earthquake, the worst to hit the country in decades, damaged approximately 2000 buildings, according to government tallies. Additionally, AIR worldwide counted lack of running water, power shortage and interrupted communication systems, as well as damage to highways, bridges, and the closure of Manta Airport as some of the consequences.
Last Wednesday, Ecuador's president Rafael Correa estimated the disaster had caused damage for about $2bn to $3bn and could knock 2 to 3 percentage points off growth, meaning the country's economy will likely shrink this year. Taking into consideration the higher insurance loss estimate and the lowest total damage one, the insurance gap would be at least 57.5%, while the opposite would represent a gap that could be as high as 89.2%.
The Ecuadorian president also announced that some taxes will increase temporarily, that the country will have to sell some assets and that the government is "looking into the possibility of issuing bonds on the international market", in order to be able to afford the multi-billion reconstruction tab. As well as this, a one-off tax of 9% will be imposed on people with wealth of over $1m, and all the working population will be asked to contribute one day of salary.
The catastrophe modelling firm explained that the insured loss estimate for the event is based on assumptions surrounding earthquake insurance penetration rates in the country, "about which there is considerable uncertainty". This presents a stark contrast with the Japan earthquake estimates for the (re)insurance industry which, as Global Reinsurance reported this week, broke the $3bn mark.