Final losses could be as high as $3.3bn, says Guy Carpenter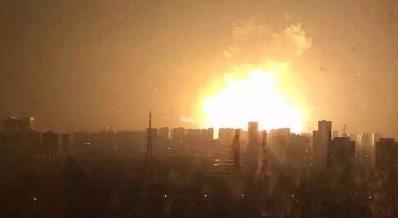 Total public (re)insurance loss estimates from the August Tianjin port blasts so far are nearly $500m.
But the $499.8m figure is likely to be a fraction of the total losses from the event, with more western (re)insurers set to declare losses.
Total claims from the explosions at the Chinese port could top $3.3bn and are set to be one of the largest man-made disasters in Asia, according to a Guy Carpenter report.
The fireball and shock wave from the explosions blasted shipping containers, incinerated vehicles and destroyed warehouses, production facilities and dormitories.
Most claims likely to be picked up by Chinese insurers, though none have released public loss estimates.
It also hit the nearby Donghai Road railway station and blew out windows within residential structures for several kilometres.
Ace has reported a pre-tax loss of $22m from the explosion.
Allied World expects net catastrophe losses of $28.9m, while Aspen estimates losses of $30m for the explosion, net of reinsurance and reinstatement premium.
Validus Re is facing losses of $32.7m for the explosion, while Validus' Talbot Underwriting acquisition expects claims of $11.2m for the same disaster.
Meanwhile, XL Group has estimated it will lose around $100m in claims, with 30% of this loss to hit its insurance arm and the remainder its reinsurance segment.
Zurich estimates aggregate losses of around $275m.
Allianz said in August that it expects losses and is still working out its potential exposure.
The firm's Chinese general insurance arm has exposures around property and marine clients.