Hogan Lovells lawyer on challenges of the new technology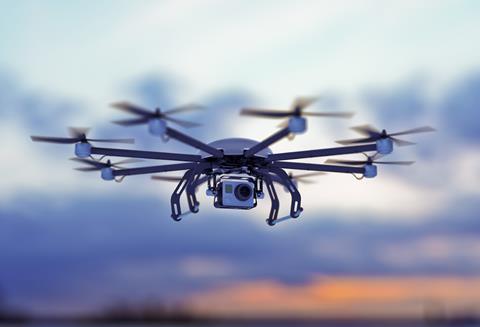 What's all the buzz about drones? Having been developed and first used for military purposes, the commercial sector is coming to understand the colossal potential opportunities that Unmanned Aerial Vehicles, or drones, may offer to businesses of all sizes, writes Hogan Lovells senior associate Dan Screene.
Barely a day goes by without a feature piece in the broadsheets or a story on the news websites. Even Jack Bauer had to spend the last series of 24 careering round London chasing out-of-control drones. Drones are big news and drones are here to stay. With the commercial sector realising the benefits that may be on offer, investment into the technology and its application will only accelerate.
As well as their well-publicised future deployment in the delivery of packages, food and other goods, drones have enormous potential in agriculture, mining, real estate, security and film and cinema amongst numerous other industries.
For legislators and regulators the primary challenge is finding the right balance between innovation and safety. The technology will continue to move forward. Regulators need to ensure that innovation is not stifled by cumbersome or counterproductive red tape, whilst simultaneously ensuring the safety of the public and maintaining confidence that the sky is not about to fall in.
For insurers, the challenge is equally clear. With this new technology and its deployment come new risks and with new risks come new opportunities. Indeed, insurance has been referred to as the 'gorilla in the room' that must be dealt with before businesses can really begin to exploit the technology being developed.
A new risk horizon
The burgeoning industry revolutionises existing risks as we have come to know them and presents a number of new challenging and unique risks. The delivery revolution retailers envision will require drones to fly over densely populated cityscapes and land at people's homes. For a densely populated country like the UK (England is approximately 12 times more densely populated than the US) the risks are particularly stark.
Drones do not yet have the levels of environmental awareness required to avoid flying into people, and have the potential to cause significant injury or damage to property during the course of their operations. While drone operators will have a high burden of care, meaning they are likely to be liable in negligence claims, third parties who hired the drone could also be at risk of liability. Looking forward, the risk landscape may evolve further if the technology being developed for autonomous cars is also deployed in delivery drones.

An incident involving a defective drone could also easily give rise to potential liabilities for the manufacturers of the drone itself, including the individual components and systems.

The unmanned vehicles will not be able to protect their goods so theft is a very obvious threat.

Another key concern regarding the commercial use of drones is privacy. Because they are fitted with cameras, drones will fall under privacy and data protection regulation. An analysis of the relevant and highly significant data protection regime and its application to drones is complex and beyond the scope of this article. One can easily see however that the use of delivery drones in dense cities could potentially lead to nuisance claims, and unplanned landings could give rise to a liability in trespass.
A legal and regulatory framework
Despite the potential rewards of a multi-billion dollar industry (the Teal Group estimates it will be a $91bn market by 2024), the prevailing mood among insurers remains one of trepidation. This is evidenced by the recent Lloyd's emerging risk report, 'Drones Take Flight: Key issues for insurance.' Chief among their priorities is the need for regulatory standards to put an end to uncertainty. Beyond this, commercial drone operators will need to ensure they can demonstrate their competency and security against cyber-attacks to secure insurance cover. However, insurers have the opportunity to help shape the law itself at the outset through working alongside the government and regulatory bodies to set safety standards and regulation.
At present, standards are evolving across the globe at different rates and at variable levels, which will ultimately have a significant impact on the fledging drone industry itself and the insurability of the industry. Indeed, the UK's Civil Aviation Insurance Regulations 2005 and CAA Mandatory Insurance Regulations themselves point to the need for adequate insurance to cover the potential liabilities resulting from drone operation. While the extent of risk exposures needs to become clearer, insurers should ensure they are part of the conversation from the start.
With the commercial use of drones in its infancy and no meaningful claims experience to date, it is difficult to analyse the risk properly and to price the insurance. Insurers currently offering bespoke coverage for commercial drones businesses are few, and have therefore, understandably, charged expensive premiums.
Other insurers are adapting their existing aviation policies. There has always been a distinction between airline insurance and general aviation. Drones may eventually become a third spoke in that wheel. If the market for drones takes off as predicted, bespoke wordings specifically covering the risks associated with drones will need to be developed. Moreover, many industry commentators have suggested that regulators may feel in due course that there is no choice but to insist on compulsory insurance for the commercial use of drones.