Third Point Re's chief executive talked to Global Reinsurance at this year´s RVS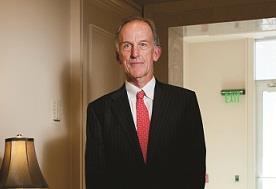 Reinsurers relying mainly on underwriting returns to grow their business are going to continue feeling the pressure unless they can find new ways to drive costs down.
Speaking to Global Reinsurance at Monte Carlo 2016 Third Point Re chief executive John Berger said that "everyone was looking for pots of gold that were not there".
But he said that that despite the ongoing challenges of the soft market, Third Point Re had been able to buck the trend of companies feeling the pressure of slim margins, by taking most of its risk on the investment side.
"We have a very aggressive investment strategy, and as a result, we are much more conservative on the underwriting.
"We look for more business that is a little more stable. We like to help companies that view reinsurance as capital, in terms of quota share, or loss reserve deals."
Solvency II has put heavy pressure on companies, and as a result, has caused them to make little on the investment side.
"A lot of companies relying on underwriting returns are going to be hard pressed," Berger added.
"We have increased our asset leverage to a good level. With the alternative investment strategy, if this market stays tough, we are in pretty good shape."