John Neal says that Lloyd's is 'prepared' for digitisation and wants to be held to account throughout the implementation process
Lloyd's of London has launched a second edition of its Blueprint Two digitisation strategy, including an interactive guide and implementation road map.
Blueprint Two, which was first published in November 2020, sets out the planned implementation of new digital solutions for the Lloyd's market - these aim to make transactions faster and cheaper for participants.
In a virtual press briefing on 27 January 2022, Lloyd's chief executive John Neal said: "2021 was really about laying the foundations that allowed us to build the digital solutions.
"2022 is an important year of change for our market, so it is vital that organisations begin preparing to adopt the solutions - the success of our market depends on it.
"Our hope is that this detail allows everyone to prepare the ground within our own business to be ready as the solutions are rolled [out], inspiring confidence in the significant change we're delivering through Blueprint Two."
Delivering the road map
The road map for Blueprint Two, which will run from quarter one of 2022 through to quarter two of 2024, details the digital solutions Lloyd's wants to deliver, as well as highlights when the market will need to respond to changes. The document also outlines how Lloyd's plans to provide support throughout the digital transition process.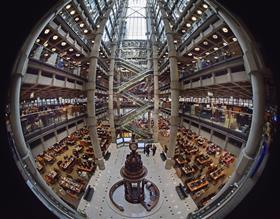 Neal continued: "The interactive guide and road map really does what it says on the tin.
"What we wanted to do was to really clearly set out what the next two and half years look like for the next 10 quarters, from 2022 to 2023 and into 2024.
"We are quite prepared and want to be held to account throughout this."
The guide looks at five key areas. These are:
The engine room: What does the mid and back office look like across the market? This is to do with the joint venture launched between Lloyd's and DXC Technology, announced this month, which will look at how policies are issued, how claims are handled, how accounting entries are completed and how duplications are fulfilled. Neal described this joint venture as "important".
Redesigning how business is placed: This revolves around data and the establishment of Lloyd's data council, to ensure that the Core Data Record can change accordingly. The Core Data Record denotes the critical transactional information that needs to be collected to drive automated downstream processes.
MGA, delegated authority and coverholder business: Ensure this has a "true ecosystem" approach that allows bordereau reports on a monthly basis. A bordereau is a periodical report that is prepared by an insurance company for a reinsurance firm - it details assets covered and claims paid.
Improving the quality of proposition for claims made: This can be for the open market or delegated authority. It aims to ensure that the journey from first notification of loss to settlement is as transparent and efficient as possible.
Importance of data: The way in which Lloyd's drives speed, efficiency and a reduction of cost means making sure the market has the right data and data flows.
Neal added that "clarity" around Placing Platform Limited (PPL) - the London market's electronic placing platform - is also essential.
Lloyd's postpones two milestones in latest Blueprint Two update
1

2

3

4

Currently reading

Lloyd's of London launches interactive guide and road map for Blueprint Two

5

6