Data provided by AM Best showed that re/insurer's allocation of net premium written for primary insurance had jumped from 25% in 2018 to 38% in 2022.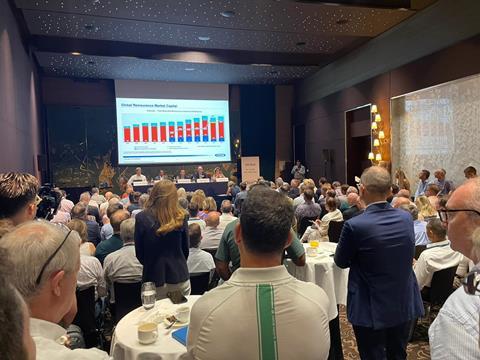 Reinsurers are increasingly operating in the primary insurance market as direct carriers in an attempt to diversify and generate greater returns.
The last five years have seen global reinsurers gradually increase the proportion of net written premium for primary insurance, compared to that allocated towards reinsurance.
Speaking during a briefing at RendezVous de Septembre yesterday (10 September 2023), Mahesh Mistry, senior director for analytics at ratings agency AM Best, explained: "As [reinsurance companies] evolve and develop, they're always seeking greater opportunities, returns and [to expand the] portfolio that they have.
"We are seeing this dynamic shift and it probably goes back to 2016, with reinsurers seeking other avenues of business for a high return and to benefit their organisations through diversification."
Data provided by AM Best showed that the market-wide allocation of net premium written for primary insurance had jumped from 25% in 2018 to 38% in 2022.
As a result, the proportion of premium written by global reinsurers for reinsurance fell from 75% of the total in 2018 to just 62% in 2023.
Mistry added: "There has been a movement up the ladder of those reinsurance programmes, which means that more of that business has now been pushed down into the primary insurance sector."
Strategic positioning
Angela Yeo, senior director for analytics and analytics operations at AM Best Europe, said the hard market the sector was currently undergoing had made "reinsurers rethink their approach to deploying capital".
She added that the sector had to "do its part" to find solutions to the growing global protection gap.
"Public-private initiatives can help narrow this gap, either through raising awareness, educating those who had the potential to be affected or compulsory covers, which might be introduced to prevent adverse selection.
MGA distribution
One of the avenues reinsurers are increasingly making use of to deploy capital are managing general agents (MGAs), added AM Best managing director for analytics Greg Carter.
He explained: "A trend in distribution that has been around for many years, that we've probably seen a bit more activity from in recent years, is the growth of the MGA [as a distribution model].
"We've seen an increasing share of the industry being channelled through MGAs. That growth has been largely driven by improvements in technology that allows MGAs to price risks and perhaps access business as well.
"I don't see the influence of MGAs shrinking as part of the market – it will continue to grow. How far is anyone's guess at this point, but it's certainly one of those trends that is here to stay."