Coverage from day one of this year's Dubai World Insurance Congress
The advent in technology and surplus capital in the (re)insurance industry has created "an opening to separate roles which have historically been linked", creating a level of disruption this industry has not experienced before.
In his opening address at this year's Dubai World Insurance Congress, co-hosted by Global Reinsurance and the DIFC, Eric Andersen, chief executive of Aon Benfield, told a packed audience to be ready for a "complete overhaul of the traditional value chain".
"Whether it is the broker on distribution and pricing, the insurer on pricing and capital, the reinsurance market sitting back vs a direct customer relationship, the traditional chain is shifting and it's hard to say where it's going to end up and who is going to be where," he said.
Referring to his idea on what the new value chain [see image] might look like, Andersen called it a "hodgepodge".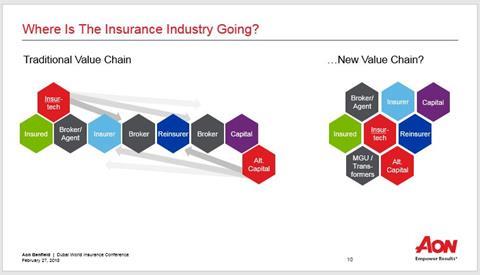 "I'm not entirely sure where it's going to land, but I can tell you that the model today will not be the model in five years," he said.
"The role we all play as an industry around aggregating risk, pricing risk and then servicing it, I think those functions will remain in the business, but who does these roles, it's not clear," he said.
One audience member raised an important issue around regulation, commenting the new value chain model would create areas of conflict of interest.
"I'm always worried the pace of change will out run regulation and invariably, someone will push it too far," he said.
However, while there is no denying the uncertainty that lies ahead, Andersen is also filled with optimism around the transformational technology initiatives driving much of this change.
"The power of data and analytics and what is happening there is providing us with greater information and insight into the business of risk," he said.
"While a lot of these new dynamics are creating challenges to the historical business models, they will provide opportunities for those who see it and want to try and drive greater business change and activity, but it carries great risk for those who don't," he added.
According to Andersen, the new business model – enabled by insurtech and "easy capital" – will revolve around efficiency, insightfulness, agility and simplicity.
Andersen is also encouraged by the investment made into insurance-related technologies by re/insurance companies, calling it a "positive sign which shows the willingness of the industry to think about what it will look like in five to 10 years' time".
New technology and access to capital has also, and will continue to do so, enable growth in new products. Andersen highlighted CAT ILS, cyber, mortgage and weather as areas he's seen the most change.
It's also creating emerging client segments, for example Government, in relation to flood, quake and credit and technology will also enable the industry to recapture retained risks in large corporates, said Andersen.