RSA faces uncertainty after being left high and dry when Zurich dropped its takeover bid. But questions have also been raised over Zurich's internal issues cited as behind the change of heart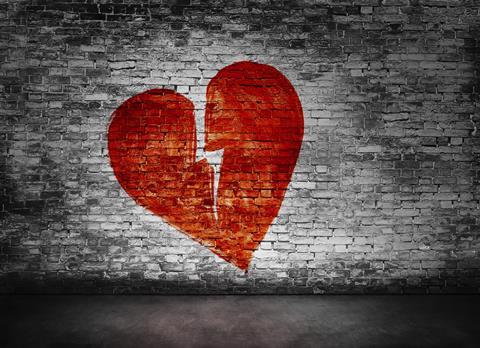 It is the ultimate cliche break up line – "It's not you; it's me."
That is effectively what Zurich said when it made the announcement that stunned the market, writes Global Reinsurance's sister title Insurance Times.
For eight weeks speculation had been rife over whether Zurich would buy RSA.
Then the day before it had to make up its mind, the Swiss insurer said that talks had ended – blaming its decision on the continued deterioration of parts of its own global general insurance (GI) business, including problems with its US motor liability book.
As a result the group's recently appointed GI chief executive Kristof Terryn is conducting a review of the business.
But where does this leave jilted RSA? After all, the insurer conditionally agreed to Zurich's proposed bid. Will RSA now claim independence is the best strategy? Or will another suitor emerge? And at what price?
And what lies ahead for Zurich, as it looks to clean up the mess in its own business?
Strategy needed
RSA is a much smaller company compared with five years ago, having sold several divisions as part of a restructuring aimed at bolstering its balance sheet.
In its recent H1 2015 result, RSA's group operating profit was £259m, up 83.7% on 2014's £141m, while group underwriting profit was £101m – a leap from 2014's £23m loss.
Market observers say group chief executive Stephen Hester has a job to do to drive the earnings up whether or not another bidder comes forward.
Lark Insurance chief executive Stephen Lark says RSA will also need to be clear on its strategic direction.
"I suspect it will be business as usual for Zurich, but for RSA the repercussions are slightly more serious," he adds.
"Will it continue to be a target, or will it decide it is time to carry on with its plans to develop and grow the business and see what happens?"
RSA's staff will need remotivating
Brokerbility chairman Ashwin Mistry says that with the future uncertain, RSA will need to re-motivate staff.
And rival insurers could try to take advantage of the uncertainty by poaching RSA's staff or clients, a senior insurance executive who wanted to remain anonymous says.
Brokers have affirmed their support for RSA, saying Zurich's pull-out would not affect placement decisions.
Lark says: "We have a strong relationship with RSA. I do not see that the deal not happening is going to have an impact on our relationship at all.
"If a deal does happen it will be with a powerful market player and I don't believe clients are going to be scared of RSA being bought."
Mistry adds: "There are lots of good people at the helm. From a trading point of view there are no changes at all. It is just a question of the distraction this has caused – this just needs to be put to bed very quickly."
Another piece of good news for RSA is that Zurich made it clear it had found no problems during its due diligence process.
But this will come as little comfort to RSA shareholders who had looked forward to a decent pay-out from the sale.
RSA's share price fell by 21% after Zurich's announcement.
Panmure Gordon analyst Barrie Cornes says: "RSA is in a difficult position. It would have been a fantastic opportunity for shareholders.
"But now it is unlikely that someone will come in and make a bid, so Hester has to drive the earnings growth, which will be difficult, while RSA's share price is unlikely to go up in the current weakened market."
RSA has told Insurance Times it would continue the turnaround project started 18 months ago, adding that it also kept brokers, affinity partners and employees updated after the approach from Zurich.
'Business as usual'
An RSA spokeswoman says: "There was never any certainty of a deal and throughout we always made it clear that it was still business as usual."
The reasons for Zurich's pull-out have not only raised questions in the market about its internal issues but also why it had not done its sums before driving forward with the bid.
A recent review by Zurich revealed under-reserving of $300m in the third quarter in relation to current and prior year liabilities for its US motor liability book and other lines of business, while the insurer expects its GI business to report an operating loss of around $200m, also for Q3.
Due diligence
"Zurich made it clear it did not find anything untoward [with RSA] during due diligence," Shore Capital analyst Eamonn Flanagan says. "Having said that, you might be cynical and suggest this is a smokescreen to enable a retreat.
"If we take what Zurich said at face value, the facts are it took two big hits in Q3 and it has a new chief executive.
"But the subjective element is whether a $600m hit is big enough to derail the process."
Zurich says it is focused on setting a robust baseline for its GI business. A spokesman says: "It is too early to say what the review will propose. But bear in mind that much of our GI business is in good shape."
Zurich may not have as big a job as RSA to reassure staff and brokers about its strategic direction, but both have work to do to grow their earnings.