70% of Italian households not prepared to face such an event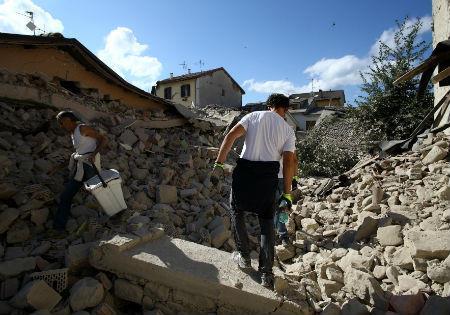 A 6.2M earthquake stroke the central part of Italy yesterday night, at about 3:36 am. Followed by a 4.4M one at 3:56 am, the aftershocks — more than 50, according to local reports — were felt all the way to Rome and Bologna, about 100 miles away from the epicentre.
Up until this morning, the death toll had risen to 247, but rescue teams are still working. In Amatrice, where the greatest damage was suffered, a hotel collapsed and it is estimated that more than 70 people could have been inside.
Rescue operations are already complicated by the fact that the affected area is hard to reach and the buildings were mostly stone, making the debris difficult to remove. They continued during the night aided by torches and local helpers, since basic services like water, lighting and communications have been interrupted.
Although cost estimates for the quake will not be available any time soon, it is worth remembering that the damages provoked by latest big earthquake to hit the country, in 2009, were estimated in billions. In Italy, were earthquakes risks are high, 70% of households are not prepared to face such an event and less than 1% are insured against it, according to the Italian newspaper Corriere della Sera.
In a press release, catastrophe modelling risk AIR Worlwide also highlighted this, stating that: "Italy's nonlife insurance market is the eighth-largest in the world and the fifth largest in Europe; its property insurance market is the second-largest nonlife market in the country after automobile. However, earthquake coverage is often not included in standard homeowners' policies and is typically issued as an extension of fire policies. For industrial and commercial structures, earthquake coverage may be offered for an additional premium, which varied by region. The government budget includes provisions for post-disaster insurance payouts instead of a state pool or catastrophe fund into which companies can contribute."