This year's Global Reinsurance Monte Carlo roundtable took a deep dive into some of the key innovations disrupting the (re)insurance industry
The theme for this year's Global Reinsurance Monte Carlo breakfast roundtable, held in association with the Dubai International Financial Centre (DIFC), was 'Innovation within the reinsurance industry'.
The event, held under Chatham House rules, began by questioning how the senior executives in the room were currently engaging in FinTech within their companies. While it was acknowledge that this was an area where the primary insurance sector had thus far taken the lead with the likes of telematics, wearables and the Internet of Things, those in the room were more than able to express their involvement in this growing area of importance for the industry.
According to one attendee, it was seen as necessary to be abreast of technological changes in order to fully serve the cedents: "We do big data, we do Internet of Things, we do everything - simply to keep up with our clients. We hope to be able to help them, particularly the medium sized players to utilise this technology, and with that be better placed from a reinsurance perspective."
The idea that innovation in and of itself is disruptive was challenged
Another added: "People use FinTech to either reduce their costs, or to better understand their customers. And it is the latter that is of more interest."
The ability to use technology to better understand the customer and indeed get closer to the client was seen as an essential aspect of the technological evolution and was referenced on a number of occasions.
"One point that is extremely important is that the technology change means that we as reinsurers are getting closer to the risk," explained one attendee. "We have to understand what is really happening on the insurance side, not only on the reinsurance side."
The idea that innovation in and of itself is disruptive was challenged, with it being noted that these developments have varying impacts on the value chain: "What do we mean by disruptive innovation? The term gets banged around so much, but is it really disruptive to the whole value chain, or is it really what is called a sustainable innovation, where you're replacing a little bit, or trying to enhance something."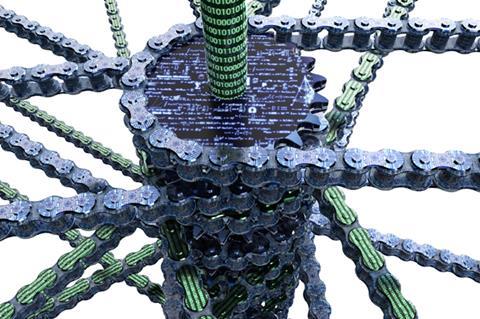 One innovation that could prove truly disruptive, according to the room, was blockchain. Several attendees were exploring this technology in great depth.
"Blockchain in particularly we are hoping to do get some cost-cutting on," said one attendee, and another concurred.
It was noted that with Blockchain the key was not to view it as a fix-all saviour, but instead to knowing what problems it solved – and then establishing whether these were problems that needed solving: "If you think about it, it solves two problems: one problem we've tried to solve for many years, and the second one we don't have. The first problem is the single-data entry used many times. But technology is not enough, it's about behaviour. The technology has existed for 20 years. The second problem that blockchain solves is the problem of trust."
The attendee added that the second solution was very fitting, given blockchain's beginnings through bitcoin, which was established so parties that didn't know each other could transact. The attendee went on to question whether this was a solution the reinsurance industry needed: "
Around this table I don't think we have a problem with trust. The insurance and reinsurance industry is built on trust and being able to trade with each other. Yes, blockchain is the latest technology, but does it really solve the problems that we have?"
Blockchain was also described as "incredibly power hungry" and requiring large amounts of band width.
"It grows exponentially, so if we all start using blockchain today, there may not be enough bandwidth for us to transact with each other. Because if I transact with one person, then everybody else associated has to record that transaction."
One attendee warned against relying too heavily on technology companies when tackling an evolving world
With all of this said, many attendees agreed, the efficiencies gained through the use of blockchain could not be ignored.
While innovation often focusses on technology, it is in fact a much broader notion, and the attendees touched on innovation through new business models and the ways the industry could use them to move forward.
It was highlighted that sometimes these models were needed for innovations that are happening outside of the industry. The example brought to the table was driverless cars.
One attendee warned against relying too heavily on technology companies when tackling an evolving world, adding: "If you're going to give Google or Apple or one of these huge companies - far bigger than any reinsurer we've ever met - the power of distribution, look out. Because they have got which the reinsurers used to control: the data. The more time you spend on Silicon Valley, the more time potentially you're arming the opposition."
The attendee added: "As an insurance and reinsurance industry we've got to come up with a distribution model, which gives you the ability to have access to the data, and gives us the ability to efficiently deliver a quality product to the client. With mobile phones, most people who distribute mobile phones make more money out of insurance than the person who made the mobile phone. In a way, the person who sold the phone is acting as an insurance broker."
The discussion continued on in depth, exploring the likes of automation and disintermediation, and the role of emerging markets in the roll-out and uptake of various technologies. There were contributions from all in attendance, which led to an insightful and energetic breakfast roundtable.
Explore innovation in the MENA region further at our upcoming event Dubai World Insurance Congress (DWIC), taking place 28 February - 1 March 2017. Click here for more information.