Chubb's regional president shares report card on industry in DWIC regional keynote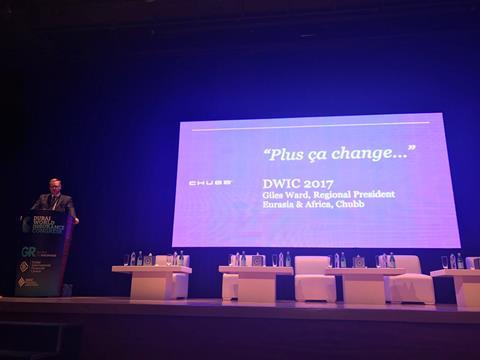 The MENA risk, insurance and reinsurance landscape have seen some progess, and the region is attracting and nurturing the talent needed for change - there is plenty to be optimistic about, according to Chubb regional president, Eurasia & Africa Giles Ward.
In his keynote address this morning at the inaugural Dubai World Insurance Congress, Ward reflected on a speech he had given three years ago where he shared a report card of the insurance industry in MENA.
Reviewing that card today, Ward said key areas were strikingly similar.
"Challenging insurance market conditions, a volatile geopolitical environment, and uncertainty over economic progress were the themes," he said.
"And while some have waned and others gathered pace, most of the issues we faced then are the same ones that we continue to face today."
In a wide ranging speech, Ward examined the economic picture, before considering the insurance market and also the risk environment – where he noted at the outset the biggest changes had taken place in the MENA region.
Slow economic growth in MENA also remained as a result of low oil prices – but there was better news elsewhere
Turning first to the macroeconomic picture, Ward said record low interest rates remained a major factor in most of the developed world, while stock markets pushed ever higher.
Terrorism and political violence were a continuing problem "and a constantly mutating one". Ward also cited the "significant political uncertainty on a wider stage, which will have repercussions for the region".
Slow economic growth in MENA also remained as a result of low oil prices – but there was better news elsewhere.
"If you strip out this part of the economy, then growth in the GCC's non-oil sector is expected to accelerate from 2.4% to 3.2% in 2018," Ward said.
Nonetheless depressed oil prices "will likely continue to act as a brake on growth and investment in the near term".
This, Ward said, would have a "knock-on effect on insurance market growth given that there is nearly always a close correlation between GDP and premium growth".
Turning to the insurance market itself, Ward examined the digital transformation which has gained ground as one of the industry's big themes.
However, he noted that "Digital evolution in the P&C sector at least (which most of us here today represent) will be much more nuanced – not least here in MENA," Ward said. "We will, of course, see areas of the insurance value-chain, and specific products, where the customer experience can be meaningfully improved, if not transformed, as we use the new tools available to us. Likewise, I have no doubt that there are multiple processes and decision points that can and will benefit in truly significant ways. Nonetheless, we should not lose sight of the basics: a deep understanding of client needs (not just financial but emotional); the application of thoughtful underwriting acumen; and excellent, sympathetic claims service. Shiny new technology may help us deliver, but can never be a substitute for these aspects."
Turning his focus to MENA insurance, Ward said the UAE and Saudi Arabia were key markets which had seen continued strong growth, while most other major markets have been static – with motor and medical lines driving growth.
MENA reinsurers, meanwhile were generally "underperforming compared with international peers in the deteriorating global environment".
"Competition has remained rampant in both the direct and reinsurance markets," Ward said. "The main problem in MENA remains the same as it was three years ago: too many companies chasing the same relatively small pool of business."
"One of the trends I've noticed over recent years is an increasing alignment between the Middle East and the rest of the EMEA region in terms of emerging risk awareness."
On the plus side Ward welcomed the continuing development and maturity of MENA as a regional market.
"The market is standing increasingly on its own two feet. And there is no going back," he said.
"And while international players may be adding to the competition, they are also bringing with them international best-practice, new ideas and additional technical capability. Lloyd's arrival in Dubai is a good example."
This was being further reflected among the talent the insurance industry was able to attract to and from within the MENA region.
"In the 10 or so years it has been since I first became involved in the region, I have seen a noticeable change and I am impressed by some of the bright and enthusiastic young people that have joined the industry," Ward said.
In the final part of his speech, Ward appraised the risk environment.
"It's here that perhaps I can see the greatest – and arguably the most encouraging – change coming for insurers and brokers operating in MENA," he said.
"One of the trends I've noticed over recent years is an increasing alignment between the Middle East and the rest of the EMEA region in terms of emerging risk awareness."
Ward backed his assertion by reflecting on a recent Chubb risk survey which highlighted how similar the concerns of companies in MENA were when compared with the rest of the EMEA region.
"Something I don't think would have been quite so clear in the past," he said.
Technology risk ranked highest, followed by supply chain, logistics and finance risk. Geopolitical risk completed the picture.
In conclusion, Ward said that the changes being seen in MENA in terms of risk awareness were a source of optimism.
"As practitioners, we now have a major opportunity to capitalise on these and develop the services we provide.
"What's more, supported by an increasingly independent market infrastructure here in MENA – and there is no greater evidence of that than in Dubai – I am more optimistic than ever about our ability to deliver."