Third largest reinsurer announces quarterly profit of €484m and a combined ratio of 92.3% on its property and casualty business.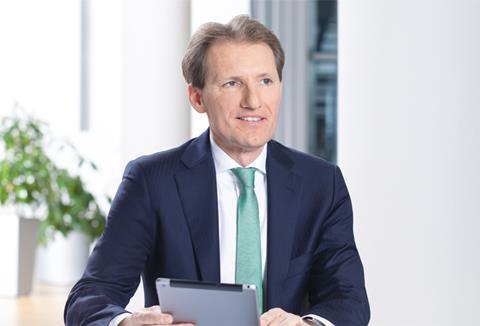 Hannover Re says it is on track to meet its 2023 full-year target, after announcing a first quarter profit of €484m ($529m).
Reinsurance revenue at the world's third largest reinsurer reached €6.6bn, unchanged from a year ago.
Meanwhile, "large losses" experienced in property and casualty (P&C) reinsurance were "within the bounds of expectations".
Those losses pushed the combined ratio for P&C business to a still profitable 92.3% for the first quarter.
Its return on equity of 20.8% was well above a minimum target for its investors, the German reinsurer said.
"With the result for the first three months we have achieved more than a quarter of the full-year guidance of at least €1.7 bn and are thus very much on course," said Jean-Jacques Henchoz, CEO of Hannover Re.
"At the same time, we have further strengthened our resilience. In the face of the current challenges we are thereby remaining a reliable partner for our clients," Henchoz added.
Hannover Re is reporting its results for the first time based on the new financial reporting standards IFRS 17 and IFRS 9, both of which have been applicable since 1 January 2023.
"Initial application of the new financial reporting standards led to a number of changes in our key performance indicators that reflect our business model even better," said chief financial officer Clemens Jungsthöfel.
The €334m cost attributed to large loss events in the first three months of the year was €2m above the figure for the same quarter of last year, and within the €356m budgeted by the German reinsurer.
The largest individual losses were the earthquake in Turkey with net expenditure of €201m as well as an intense cyclone and major flooding that impacted New Zealand at a cost of €52m and €47m respectively.
Outlook for 2023
For 2023 Hannover Re anticipates a contribution of at least €1.6bn from P&C reinsurance to the operating result, with life and health reinsurance expected to contribute at least €750m.
Group net income for the full year should reach at least €1.7bn, the reinsurer said.
This assumes, among other factors, that large loss expenditure does not burn through a budgeted level of €1.725bn.
Hannover Re said it expects to grow the reinsurance revenue in total business by at least 5% this year, assuming constant exchange rates. Currency-adjusted growth in reinsurance revenue should again be stronger in P&C than in life and health.
Renewals in traditional property and casualty reinsurance on 1 April 2023, which are focused on the Asia-Pacific region and North America as well as some lines of specialty business, once again resulted in significantly better risk-adjusted prices and conditions.
Volume growth reached 7.1%, while the inflation- and risk-adjusted price increase for the renewed business amounted to 6.0%, the reinsurer added.
Henchoz said: "In the renewal negotiations at 1 April we were able to build further on the significant improvements in prices and conditions achieved in the 1 January renewals.
"We have thus put in place another major cornerstone to secure Hannover Re's long-term profitability."