Florida's Big-Bend coastal area is sparsely populated, reducing the impact of Hurricane Idalia, while inland losses are expected to be less than last year's Hurricane Ian.
The insured loss impact of Hurricane Idalia will be lessened due to its point of landfall on Florida's Big Bend Gulf of Mexico coast, north of Tampa, according to Moody's RMS.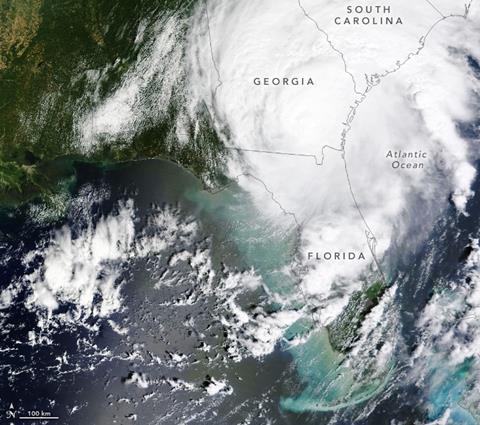 The swampy coastal area has low population density, north of the Tampa urban area and south of Tallahassee.
The degree of floodin in Tampa, to the south, would be a major driver of Idalia's insured losses, Moody's RMS said.
Although Idalia's powerful storm surge has resulted in floods, the worst affected would likely be restricted to coastal properties, the catastrophe modeller suggested.
The cat risk modeller also said inland flooding was likely to be less extensive for Idalia than losses experienced from 2022's Hurricane Ian.
"While the storm is moving relatively fast (faster than Hurricane Ian last year), with Idalia's anticipated trajectory, there is currently likely to be less extensive inland flooding damage and losses than from Ian," said Sarah Hartley, senior manager, event response, Moody's RMS.
"The Big Bend has not been struck by a hurricane since Gladys in 1968; it is one of the least-developed and most sparsely populated regions in the state, however, any coastal properties will be very vulnerable to severe storm surge," Hartley added.
Moody's RMS repeatedly cut its pre-landfall initial mean loss estimate for Idalia as the storm's track approached the US coast, dropping to $6.3bn by yesterday's landfall, it has been reported.
The official Moody's RMS loss estimate for Idalia will be released 7-14 days after the storm, the company has said.
Florida insurance exposure
Moody's Analytics published a separate report on property and casualty insurers in Florida most exposed to Idalia, and another paper on the broader state of the Florida insurance market.
Key takeaways included:
Florida-only insurers such as Citizens are most exposed to Idalia. The top 10 Florida-only insurers write about 44% of the state's homeowners business and are more vulnerable than others given their geographic concentration.
Large national primary homeowner insurers including State Farm and Allstate are exposed, but less so given they have reduced their exposure in Florida over the past decade. The top 10 U.S. homeowners insurers average only about 4.1% of their homeowners premiums in Florida.
Generally, Florida's homeowners insurance market faces many challenges including: high catastrophe exposure, declining insurance capacity, increasing property values & insured values, elevated construction costs, and more costly reinsurance coverage (pricing for Florida property catastrophe reinsurance rose 30% to 40% this year).