What has been agreed in London to support Ukrainian reconstruction? Marsh McLennan, Lloyd's, Aon and VIG joined G7 Governments in pledging their support to rebuild Ukraine's shattered economy.
The Ukraine Recovery Conference (URC), held in London in late June, has resulted in a number of public-private financial pledges and commitments for the country to rebuild from Russia's ongoing invasion, raising more than $60bn towards recovery and reconstruction.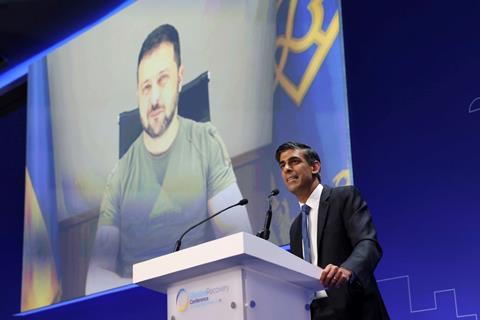 UK Prime Minister Rishi Sunak welcomed G7 finance ministers to the URC, at which the UK Government provided new or updated commitments of a further $3bn of guarantees to unlock World Bank lending to Ukraine and £240m of bilateral assistance.
Last year Ukraine's economy shrank 29% to just over $140bn, and is increasingly reliant on foreign aid to continue its resistance to Russian attack, and for ongoing counteroffensives to continue to liberate the roughly 17% of the country still occupied by Russia.
Reconstruction efforts have been previously estimated by the World Bank to need at least $411bn in funding over the next ten years, the first $14bn of which is needed in 2023.
Marsh & McLennan war risk pool proposal
Marsh McLennan proposed the creation of a war risk pool to re/insure international reconstruction plans for the country.
Such a pool would need to be arranged on a similar basis to existing terrorism risk backstops, such as the Pool Re re/insurance pool in the UK, to which insurers can pay a portion of their premium into when underwriting terrorism insurance policies, in return for a UK Treasury promise to financially guarantee the fund itself.
Marsh McLennan also committed to provide its services on a pro-bono basis to design and deliver a risk data platform that will allow insurers to assess and underwrite war risks in Ukraine with greater confidence – war risks in the country are subject to a Russia, Ukraine, Belarus exclusion, with reinsurance protection, and primary market covers in turn, mostly removed.
For its part, the Ukrainian Government made a commitment at the URC event to sharing detailed information with the insurance industry to enable effective and targeted risk modelling to rebuild its commercial insurance market.
President and CEO of Marsh McLennan, John Doyle, said: "The announcement by the Ukrainian Government, together with the support of the UK Government, are important steps towards the recovery of the Ukrainian economy from this ongoing and devastating war.
"Our support for this important project builds on the work we have been doing with Ukraine this year to evaluate options for war risk insurance. I am proud that our colleagues are standing together with the people of Ukraine to help them to recover as quickly as possible," Doyle added.
Deputy minister of economy of Ukraine, Oleksandr Griban, said: "Accessing the global insurance market is vital to begin the long road to recovery for our economy. This support from Marsh McLennan is a crucial step in helping us to attract the investment that we need to rebuild and grow strong."
Former Pool Re CEO Julian Enoizi has played a leading role in the war risk pool proposal, through his position as global head of public sector practice at Guy Carpenter, the reinsurance broking arm of Marsh McLennan.
"What a privilege to have led on this work. The ability of our industry to make a difference should attract young people to want to be a part of it," Enoizi said via LinkedIn.
Aon, Lloyd's, VIG partnership
Lloyd's and Aon have announced the UK-Ukraine Private Finance Partnership, a new collaboration to provide enhanced re/insurance capacity to bolster Ukraine's economic resilience and support the country's recovery and reconstruction.
Under the agreement, Lloyd's and Aon have committed to deliver fast-track access to supplementary foreign re/insurance capacity to support both international and domestic companies operating in Ukraine with manufacturing and construction risk exposure, excluding war cover.
Lloyd's said its plans would harness the expertise and capabilities of Ukraine's insurance market to strengthen and grow domestic re/insurance availability, providing an essential financial mechanism to support rebuild and reconstruction efforts.
Aon and Lloyd's were joined in their announcement by Vienna Insurance Group (VIG), which has a historical presence in the country and provides both treaty and facultative reinsurance, allowing increased capacity for local and international clients needing cover for manufacturing and construction activities.
"Lloyd's is committed to supporting the reconstruction of Ukraine through this new collaboration with Aon and VIG," said John Neal, CEO, Lloyd's.
"By ensuring the country's insurance market has the necessary capital to lead on insurance solutions for its customers, backed by the financial might of the international (re)insurance industry, we can help strengthen Ukraine's economic resilience as it recovers and rebuilds."
Aon's global chairman of reinsurance solutions, Dominic Christian, said: "This unique commitment from Lloyd's, VIG and Aon brings together the insurance industry's proven expertise in innovative risk management and capital solutions, and so with urgency and energy we will help to restore social well-being to citizens, communities and corporations in Ukraine."
Peter Höfinger, a member of VIG managing board, added: "The Central and Eastern European region is our home market and we have been present in Ukraine since 2004.
"In line with our clearly pursued long-term strategy in our markets, we see it as our moral commitment to support Ukrainian companies in the reconstruction process. With this partnership, we are pleased to be able to use the international capacities of Lloyd's and Aon and to provide our local expertise in the Ukrainian insurance business," Höfinger added.
UK adds to World Bank MIGA fund
The UK Government announced a funding boost of up to £20m ($25.4m) for the World Bank's Multilateral Investment Guarantees Agency (MIGA), supporting private sector investment in Ukraine.
The funding boosts MIGA's SURE Trust Fund which operates to de-risk investments in private sector projects that address Ukraine's immediate reconstruction needs.
The UK Government's announcement acknowledged that the lack of insurance options to cover war-related losses is preventing a crucial flow of private investment. The UK Government press release closely referenced the Aon-Lloyd's-VIG announcement.
"Rallying businesses to action is at the heart of Ukraine's recovery and tackling the war insurance gap is fundamental to providing companies with the security they need to unlock their full entrepreneurial and ambitious potential," said Kemi Badenoch, UK Government business and trade secretary.
UK Government foreign secretary James Cleverly, said: "The private sector is fundamental to Ukraine's recovery and reconstruction, and accessible insurance against conflict-related risks is vital to unlock that investment."
A new UK-Ukraine TechBridge was also launched by Business and Trade Minister Nusrat Ghani, in partnership with the Government of Ukraine and private sector partners, ahead of a full rollout "later this year".
The UK developed the initiative from a pe-war Ukrainian proposal. It brings together the UK and Ukrainian technology sectors in a permanent physical space in London to harness opportunities for innovation and collaboration. The programme focuses on developing digital and business technology skills.
The Department has also created "Business Bridge Ukraine", a digital platform which connects Ukrainian businesses to global companies, enabling virtual networking and supporting recovery through sustainable and long-lasting commercial relationships.
Badenoch added: "The UK stands firm in its support for Ukraine and its recovery from Putin's illegal invasion. We must work together, in collaboration with global partners and organisations, to succeed in this unparalleled reconstruction effort."