Fitch believes some property catastrophe risks could become uninsurable as industry capital shrinks by 15%
Reinsurers' underwriting margins are likely to expand by 4pp on average in 2023 due to significant price rises, tighter terms and conditions and the withdrawal of cover related to the war in Ukraine, according to Fitch Ratings.
Prices rose sharply in the January 2023 renewals in response to losses due to the war, high inflation and increasing natural catastrophe claims.

Price rises were particularly steep for property and specialty reinsurance cover.
Most property reinsurance markets saw price increases of 20%-60% following large natural catastrophe losses in 2021 and 2022, and losses from hurricane Ian in Florida contributed to the doubling of some prices in the US.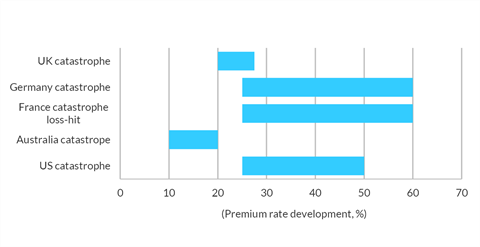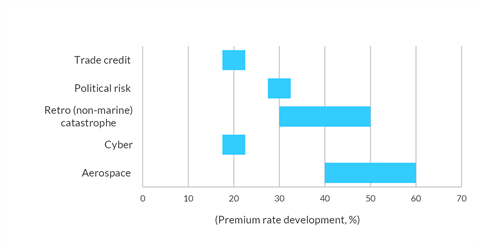 Industry capital base declines 15%
Among specialty lines, political risk and aerospace saw large price increases driven by losses from the war.
2022 looks set to become the third-costliest year ever for insurers and reinsurers in terms of weather-related events, with hurricane Ian and a series of secondary peril events across North America, Europe and Australia leading to total claims of about $120 billion.
This made it harder for cedents to place natural catastrophe risks with reinsurers during the January 2023 renewals, and the rating agency believes some property catastrophe risks could become increasingly uninsurable.

Fitch estimates that the reinsurance sector's aggregate accounting capital base declined by 15% in 2022, largely due to markdowns on fixed-income portfolios as interest rates rose.
This is likely to have reinforced reinsurers' underwriting discipline despite higher interest rates having a neutral-to-positive impact on economic and regulatory capital.

The rating agency is maintaining its 'neutral' sector outlook for the global reinsurance sector.
This view balances stronger underwriting margins with risks linked to macroeconomic uncertainty, high claims inflation and increasing natural catastrophe claims caused by climate change.