Reinsurance broker Lockton Re has published a report on climate change and hurricane trends.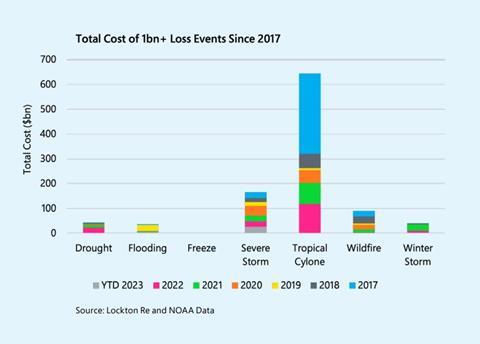 Lockton Re has released a report on storm dynamics and the reinsurance industry, exploring hurricane, tropical cyclone, and typhoon patterns and trends.
Climate change is causing increased storm intensity, the broker warned, meaning a larger proportion of category 3-5 tropical cyclones are making landfall.
Increased precipitation means that additional rainfall is causing increased flooding risk.
Rising sea levels mean that storm surge is pushing farther inland, Lockton Re warned.
"We're seeing an uptick in the strength of these storms," said Cheryl Fanelli, global head of catastrophe modelling, Lockton Re.
"Take the 2022 hurricane season, which was average in terms of hurricane activity in the North Atlantic, yet it was the third costliest on record," Fanelli said.
Hurricane Ian resulted in an estimated $50-$65bn of insured losses. Ian made landfall in western Florida as a category 4 storm and impacted an area that has seen significant population growth and development expansion, the report noted.
The increase of exposure in the path of the storm is a critical driver of the loss from this event, and as society continues to expand into risk-prone areas that are starting to experience more intense events because of the changing climate, the potential for large losses will continue to rise, Lockton Re observed.
This year's hurricane season is being called an "average" year for the Atlantic Basin, the study said.
That prediction calls for 11-15 named storms, 4-8 hurricanes, and 1-3 major hurricanes, with the highest chance for direct/significant impacts in Florida/ Carolinas, and the lowest chance over the Western Gulf of Mexico and Northeastern US.
However, the broker underlined that warm waters could lead to one or two storms being very strong or intense.
Heating up
Total rainfall was 15% to 38% more than what it would have been if the world was not warming, the broker noted, quoting the Intergovernmental Panel on Climate Change (IPCC), adding "warmer air holds more moisture that is then unleashed as precipitation".
The NOAA has stated that due to the increase in global temperatures, sea levels continue to rise around the world. These higher water levels "mean that deadly and destructive storm surges, such as those associated with Katrina, Sandy, and Michael, push farther inland than they once did."
Unlike more intense hurricanes that bring stronger winds and therefore tend to produce more loss, storm surge driven events have tended to deviate from this trend.
Hurricane Katrina, the costliest hurricane to impact the US according to the NCEI, was only a Category 3 when making Landfall in Louisiana – weaker than storms such as Ian, Maria, Irma, and Andrew, Lockton Re noted.
Harder to predict
Underlying climate related changes are making it more challenging to predict storm dynamics, according to the report.
The paper noted that since 2010 the US National Oceanic and Atmospheric Administration's (NOAA) has been off by just over 2 storms a year on average while CSU has been off by just over 3 storms a year.
Lockton Re sees a similar trend to the total number of named storms, with both NOAA and CSU predictions for Hurricane formation to be lower than what was actually observed.
"Underlying climate related changes are making it challenging to predict storm dynamics," said Claude Yoder, global head of analytics, Lockton Re.
"Past focus on frequency and severity of storms may have missed more fundamental global climate changes. Some of those changes are becoming more evident as the likelihood of loss causing storms has increased," Yoder said.
"Wind speed alone is no longer a good predictor of damages. As climate change has increased precipitation and made storm surge more likely, even lower categorized storms (as a function of wind speed), can create material loss," Yoder added.
The study is the first of four publications, Lockton Re said. The next will explore the industry's exposure to hurricanes and the fast-changing nature of home and building structures and their ability to withstand storms.
The third and fourth papers, respectively, will provide a view of comprehensive risk transfer option creation, and how placement techniques are trending and improving within the property re/insurance market, the broker said.