As head of its new Eurasia & Africa division, seasoned traveller Giles Ward is excited about expanding Ace's global footprint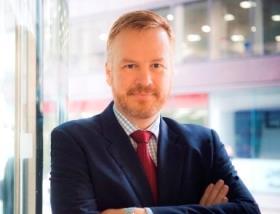 The emergence of new countries on the world stage means global insurers are reshaping to stay relevant. With that in mind, this February Ace announced that it had created a new division, Eurasia & Africa, and appointed Giles Ward to lead it.
The region is a blend of established and emerging markets, with the promise of expansion too. Here, in the first interview in his new role, Ward speaks to GR about his time in the role, plans for Ace's new region and the benefits and challenges of doing insurance business in emerging markets.
In person, Ward is a striking figure. Broad, tall and composed, he looks as if he would be just as comfortable wearing a suit of armour and swinging a sword as wearing a suit and brandishing a pen.
For the head of an international division, Ward's globetrotting background is certainly fitting. His career started as a graduate trainee with Guardian Royal Exchange, and then moved into its international division.
From there, Ward went to Hong Kong, Indonesia, Manilla, Thailand and Malaysia, before Ace hired him to launch its Middle East & North African business region. From there, he became Australia and New Zealand country president before taking up his new role heading up the insurer's Eurasia & Africa region.
So how has he found his time leading Ace's newest region?
"We've done well so far, we've built strong platforms, but there is a lot more to do," Ward says. "There is a lot of excitement about the potential for growth, in the medium and longer term, in the economies that we are talking about, so that's been a big attraction in taking the role on.
"Since joining I've had time to see all the businesses and meet our teams. That enthusiasm is still very much there."
Ward says that his immediate priority is to refine the businesses under his remit.
"There's a lot of potential for organic growth, and making sure that the structures that we put in place for the new region support that growth," he says.
"Medium to long term, it is about building out the strategic plan for development."
This will involve making strategic partnerships in places where Ace does not have a foothold and bringing Ace's products and know-how into new markets.
This medium-to-long-term plan could also involve acquisitions, though Ward says this is not an immediate goal: "But we are always keen to build our business organically first, then expand in other ways."
Overall, Ward's goal for the unit is simple: growth. "At the end of the day, this is about growing the businesses," he says. "If you look at some of the underlying numbers, in terms of insurance market growth, we are seeing higher percentages in the territories that we are already in, and there is a lot of potential for growth in places that we could be thinking about in the future."
Ward is reluctant to single out any particular countries that will drive this growth, but does mention one continent in particular.
"I guess one specific thing would be – part of my role is to think about our future strategy for the African region," he says. "We have a good business in South Africa, we've recently opened in Tunisia, and we've been in Egypt for a while, but Africa as a whole holds a great deal of potential in the longer term, and we want to make sure we're well-positioned for that."
Infrastructure development
Ward says Ace also applies its holistic view to which lines of business will be the most successful, but does identify a few examples.
"When you're in any developing economy, and this is particularly true of the Middle East & Africa, Turkey and Russia as well, there is a lot of infrastructure development going on. Our construction and marine cargo lines will be very relevant, for example.
"It's also true to say that as economies become more sophisticated we start to see demand increasing for things like liability, D&O insurance, those kind of products that flow from having a more diverse business environment in place."
Ward adds that the Eurasia & Africa region will also see much of its population becoming richer and more middle class, meaning a greater demand for Ace's accident and health products.
Of course, Ace is not the only insurer with its eye on emerging markets, and competition is inevitable.
But Ward is calm about this competition, which he sees as a global issue.
"So I think the fact that we have stiff competition in our markets is another facet of the fact that the global insurance market has an excess of capacity and is very competitive at the moment," he says.
"In terms of our approach to that, we enter markets with a view to build for the long term. We don't rush in and build enormous market share immediately, we are not market-share focussed, we are focussed on sustainable building of a business that is profitable and will be there in five, ten, twenty years time. So while we are keen to grow as fast as we can, it's within the parameters of appropriate underwriting discipline."
Sincere and dedicated
The phrase 'emerging markets' has become something of an insurance buzzword recently. So how sincere and dedicated are insurers to these markets, and how much of their interest is driven by a lack of future profits elsewhere?
"I don't know whether sincere is the right way of putting it, as at the end of the day we're all in business to make a profit, but I think it's true to say that we have seen companies move rapidly in and overextend themselves when a particular market is flavour of the month, then have to pull back or close down," he says.
"That doesn't play very well with the market, it doesn't play very well with regulators, and that is not the way we should do things. At Ace, our drive in opening in new markets is both about building that global footprint, servicing clients and so on, and being pre-emptive when it comes to being in markets where we see that economies are going to develop in such a way that the insurance market is going to become significant."
Time will tell how emerging markets interact with insurance products, but it is clear that Ward is up for the challenge. "I get a real kick out of building businesses," he explains. "Markets like the markets we're in in Eurasia and Africa really do have the potential to become much more significant to the insurance world.
"Becoming part of that is an exciting opportunity for the business and for me personally. That's what gets me out of bed in the morning and keeps me going."
Giles Ward will deliver the opening keynote address at GR's Executive Briefing taking place at the Dubai International Financial Centre on October 27. To apply to attend the event, click here.