Companies and individuals rewarded at inaugural ceremony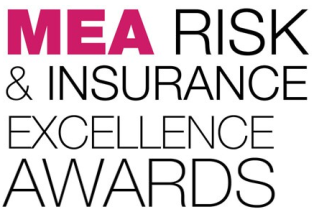 Marsh was the big winner at the inaugural Middle East & Africa (MEA) Risk & Insurance Excellence Awards, organised by GR and sister title StrategicRisk, taking home two of the prestigious trophies.
The broker won both MEA Commercial Broker Initiative of the Year and MEA Best Risk Financing Approach.
While it was definitely a good night for the broker, the biggest award of the evening, MEA Industry Achiever of the Year, went to the new Lloyd's country manager and general representative for Dubai, Mark Cooper.
Cooper was rewarded for his integral part in bringing the 326-year old market to the region through its new Dubai International Financial Centre office which opened earlier this year.
Other winners on the night included; Fadi Abu Nahl, chief executive, Trust Re; Dr Abdul Zahra Ali, chief executive, National General Insurance; and George Kabban, chief executive, UIB, who all won CEO of the year award for reinsurer, insurer and broker respectively. Each winner was selected by a group of regional chief executives who were asked to vote for their first among peers.
A total of 12 awards were given out at a gala dinner at the Four Seasons Hotel, Jumeirah Beach, Dubai.
Full coverage of the event will appear in the Winter edition of GR published in October.
WINNERS
MEA Commercial Broker Initiative of the Year
Winner: Marsh
MEA Commercial Insurer Initiative of the Year
Winner: Jordan Insurance Company
MEA Business Partner of the Year
Winner: Milliman
MEA Risk Communication Strategy of the Year
Winner: Abu Dhabi Airports
MEA Enterprise Risk Management Programme of the Year
Winner: Roads & Transport Authority, Dubai
MEA Best Risk Financing Approach
Winner: Marsh
MEA Risk Manager of the Year
Winner: Mostafa Ramzy, senior enterprise risk management expert, Emirates Nuclear Energy Corporation
MEA Special Recognition Awards
Winner: IRM Jordan & Palestine Regional Group
MEA Broker CEOs' CEO of the Year
Winner: George Kabban, UIB
MEA Insurer CEOs' CEO of the Year
Winner: Dr Abdul Zahra Ali, National General Insurance
MEA Reinsurer CEOs' CEO of the Year
Winner: Fadi Abu Nahl, Trust Re
MEA Industry Achiever of the Year
Winner: Mark Cooper, country manager, Lloyd's