Two million people are without power after the 5th most powerful storm in US history slammed into the southwest Florida coast
One of the strongest hurricanes to ever hit the United States barreled across the Florida peninsula overnight Wednesday, threatening catastrophic flooding inland, the National Hurricane Center warned.
The hurricane's eye made landfall near Cayo Costa, a barrier island just west of heavily populated Fort Myers. As it approached, water drained from Tampa Bay.
"Major to record river flooding" will continue today across portions of central Florida with considerable flooding in northern Florida, southeastern Georgia and eastern South Carolina.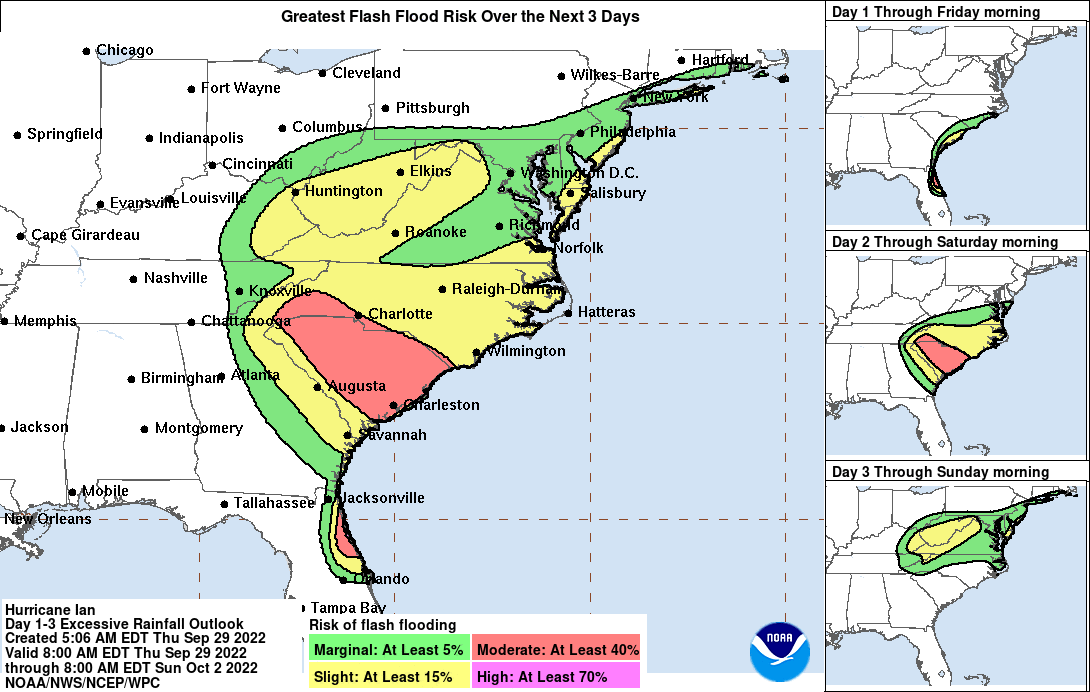 In its latest advisory, NHC says that coastal water levels are continuing to subside along the west coast of Florida. However, there is a danger of life-threatening storm surge today along the coasts of northeast Florida, Georgia and South Carolina.
Tropical storm force winds are expected to spread northward across northeastern Florida, Georgia and the Carolina coasts through Friday - and hurricane conditions are possible.
Major property damage along southwest coast
In Port Charlotte, along Florida's Gulf Coast, the storm surge flooded a lower-level emergency room in a hospital as fierce winds ripped away part of the roof from its intensive care unit, according to Associate Press.
Law enforcement officials in nearby Fort Myers received calls from people trapped in flooded homes or from worried relatives.
Hurricane Ian turned streets into rivers and blew down trees as it slammed into southwest Florida on Wednesday with 150 mph (241 kph) winds, pushing a wall of storm surge that reached 12 feet in parts.
Ian's strength at landfall was Category 4 and tied it for the fifth-strongest hurricane, when measured by wind speed, to ever strike the US.
Ian dropped in strength by late Wednesday to Category 1 with 90 mph (144 kph) winds as it moved overland. Still, storm surges as high as six feet were expected on the opposite side of the state, in northeast Florida, on Thursday.
A hurricane warning remains in effect north of Bonita Beach, about 31 miles (50 km) south of Fort Myers, to Anclote River including Tampa Bay and from Sebastian Inlet to the Flagler/Volusia county line.
More than two million Florida homes and businesses were left without electricity, according to the PowerOutage.us site. Nearly every home and business in three counties was without power.
The governors of South Carolina, North Carolina, Georgia and Virginia all preemptively declared states of emergency as strong winds, heavy rain and catastrophic flooding is forecast through Friday and over the weekend.