Ian will leave insurers with their largest loss since Hurricanes Harvey, Irma and Maria in 2017
Hurricane Ian is likely to bring incurred losses in US fire and natural hazards market to near record level, according to GlobalData
According to Benjamin Hatton, associate insurance analyst at GlobalData: "Hurricane Ian comes after a series of adverse weather events in the US during 2022 and, as one of the strongest hurricanes the region has felt in years, it is likely to cause billions of dollars' worth of losses.
"Combined with the losses from earlier in the year, Hurricane Ian is likely to leave insurers with their largest incurred loss since at least 2017 when a series of devastating hurricanes and wildfires took their toll on the country.
"That year incurred losses in the fire and natural hazards line reached almost $25 billion, with a loss ratio comfortably over 90%.
US gross written premiums for fire and natural hazards insurance was over $58 billion in 2020, more than twice the amount of Japan, which was the second highest.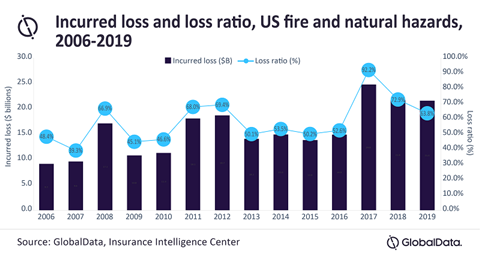 "As damaging as the effects of natural disasters can be, insurance uptake across the US tends to be relatively high," said Hatton. "Insurance will continue to provide that vital safety net for both consumers and businesses in disaster-prone areas.
"As climate change continues to generate such destructive weather events, creating access to insurance for more consumers - in all parts of the world - will help to soften the blow as people's lives and livelihoods are torn apart.
"While insurance provides valuable financial support to many, it can also alleviate global income inequality that is regularly worsened by such disasters."