Citizens Property Insurance Corporation has estimated it expects losses of about $3.8 billion
Insured losses from Hurricane Ian will likely be substantial but management, with claims expected to reach between $30 billion and $40 billion. This is according to Standard & Poor's Global Ratings.
The US property casualty insurers rated by S&P are well positioned to absorb losses, and losses for global reinsurers also should remain within annual catastrophe budgets, said the rating agency in an update.
It expects ratings should remain largely unaffected by the hurricane.
Hurricane Ian made landfall in the Fort Myers metro area of southwest Florida on 28 September 2022, as a Category 4 storm with wind speeds of up to 155 mph–nearly a Category 5 storm.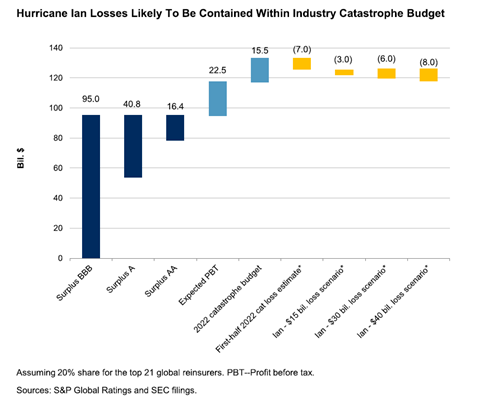 Stronger, larger storm than Charley
The track of the storm through the state appears similar to that of Hurricane Charley, which made landfall at Punta Gorda in August 2004 and caused around $7 billion of insured losses at the time, according to a report published by the National Hurricane Center.
Ian's footprint is much larger and the progress of the storm is much slower, so the wind damage will be more widespread and the water damage from rainfall and storm surge more severe. As the storm made landfall, estimates of storm surge were up to 12-18 feet, compared with estimates of 6-8 feet for Hurricane Charley.
Early pre-landfall estimates of insured losses from Hurricane Ian ranged from $15 billion to $40 billion.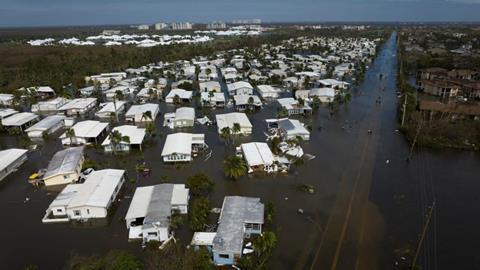 Given its size and intensity–including the amount of storm surge along an extensive portion of the southwest Florida coastline–and the fact that the storm came ashore in a more populated area, S&P Global Ratings' current expectation is that the insured losses will be closer to the high end of this range.
Citizens Property Insurance Corporation, the state-sponsored insurer for homeowners with a statewide market share of about 13%, has estimated that it expects losses of about $3.8 billion, which implies an industrywide loss of around $30 billion.