The world's biggest reinsurer reported a net profit of €1.2bn for the third quarter of 2023, with major-loss expenditure in P&C reinsurance slightly below average.
Munich Re has raised its profit expectations for 2023, following a €1.17bn ($1.25bn) third quarter net result, with its annual guidance now anticipating a €4.5bn profit, half a billion euros above its previous estimate.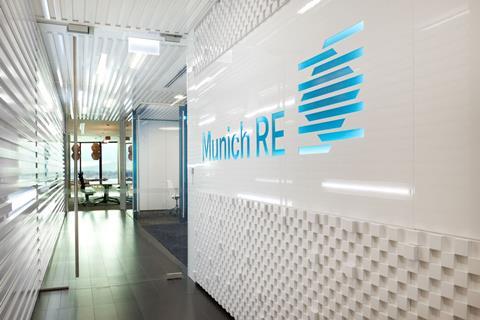 In property-casualty (P&C) reinsurance, Munich Re is anticipating a combined ratio of 85% for the full year, one point improved from its previous target.
Reinsurance contributed €995m to that figure in the third quarter, up from €851m in the prior year quarter.
P&C reinsurance more than doubled its profitability, generating a net result of €644m in Q3, from €309m a year earlier.
Investments contributed €760m to the quarterly result, while its Ergo primary insurer added €173m.
For the reinsurance side, major-loss expenditure declined year on year to €770m, from €2.13bn in 2022, which was affected by Hurricane Ian.
Group-wide, the German reinsurer, the world's largest, has accumulated a €3.59bn profit for the first three quarters of the year, after closing a third consecutive quarter with a net result surpassing its pro-rata guidance.
"Munich Re's outstanding business performance continued seamlessly in the third quarter. Unlike last year, we benefited from a comparatively mild hurricane season in the North Atlantic," said Christoph Jurecka, chief financial officer, Munich Re.
"Accordingly, major-loss expenditure in property-casualty reinsurance was lower than expected, despite various other natural catastrophes. Strong performance in our other operating segments rounded out the positive results.
"Ultimately, we can report a net result of nearly €1.2bn for the third quarter and €3.6bn for the first nine months of the year. We are confident that we will surpass our previous annual target of €4.0bn and have raised the guidance to €4.5bn."
Moody's analyst Benjamin Serra commented on the results: "The strong Q3 results reported by reinsurers, including those announced by Munich Re, have been achieved despite a series of climate-related losses.
"These results, however, suggest a less promising outlook for primary insurers. Reinsurers significantly raised their prices towards the end of last year, leaving insurers with less coverage than previously. Consequently, the recent storms that have swept across Europe now pose a greater financial burden for insurers," Serra added.