Seven million people in the US, at risk from this peril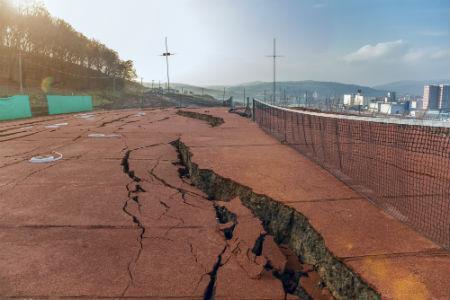 The addition of human-induced earthquakes to the US Geological Survey's (USGS) maps for 2016 showed that 7 million people in the central and eastern United States are now at risk from this peril.
Induced earthquakes are triggered by human activities – with wastewater disposal being the primary cause for recent events – and are prevalent in many areas of the central and eastern US. Wastewater from oil and gas production operations can be disposed of by injecting it into deep underground wells, below aquifers that provide drinking water.
The most significant hazards from induced seismicity are in six states, listed in order from highest to lowest potential hazard: Oklahoma, Kansas, Texas, Colorado, New Mexico and Arkansas. Oklahoma and Texas have the largest populations exposed to induced earthquakes.
The maps showed that within some parts of the region the chance of damage from all types of earthquakes is similar to that of natural earthquakes in high-hazard areas of California.
The growing threat caused by human-induced seismicity has already been noted by the (re)insurance industry. Swiss Re's latest SONAR report into new and emerging risks says there is strong evidence that it is caused by the hydrofracking industry.
Swiss Re said: "Many regions around the world face a moderate level of seismic hazard without having experienced a recent earthquake (e.g. the mid-continental US and many parts of Latin America, Europe and Asia).
"This results in little awareness of earthquake risk, and earthquake insurance is deemed unnecessary by many – leading to a potential protection gap. This may be exacerbated by a rising number of earthquakes linked to human activities such as hydrofracking, enhanced geothermal systems and CO2 sequestration."
The reinsurer added: "As the increase in earthquake activity associated with man-made actions is a relatively new situation, most risk models used by the insurance industry do not incorporate the associated increase in seismic hazard."
At present, induced seismicity is a non-modelled peril. There are some scientific advances in predicting the induced seismicity hazard but this is still not thoroughly implemented in earthquake catastrophe models.
There are several reasons why human-induced quakes have not yet been included in the models. Man-made quakes are regionalised and are more distinctive in countries with lower seismic activity. Also, induced seismicity is complex including various triggers thus making its modelling so challenging.
Goran Trendafiloski, Head of Earthquake Development for Aon Benfield's Impact Forecasting team, says: "Induced seismicity has various temporal and spatial transient characteristics and definition of general distribution model is quite hard and almost impossible.
"There is no clear distinction between induced, triggered and tectonic seismicity; there are possible long-term effects of induced seismicity (events frequency prediction, building properties deterioration) that have to be considered because they may play important role in the accuracy of the prediction models.
"Besides the direct property loss, there are other loss estimates that might be required such as loss of production and business interruption, reputational damage, loss of property value."
Despite these challenges catastrophe modellers AIR Worldwide are incorporating the risk in their 2016 earthquake models, which will include human-induced seismicity alongside natural temblors.
Dr Jayanta Guin, Chief Research Officer at AIR Worldwide says: "The traditional models that have been applied for many years in the case of natural seismicity apply to this new phenomenon? As modellers we had to find a way to model the risk.
"We've been talking to the customers about how to design the product. We've been asking, should we include it as part of the total risk? We are going to keep it as a separate model so that customers quantify from this new source of risk.
"Our customers will get a view of understanding risk from human-induced seismicity. Then they can factor it into their calculations for insurance product pricing or looking at total risk."
Most induced earthquakes are of a lower magnitude, however depending on the trigger they may be higher. Earthquakes caused by the disposal of the wastewater have reached Magnitude 5.6, as recorded in rural central Oklahoma in 2011 leading to a few injuries and damage to more than a dozen homes. Damage from an earthquake of this magnitude would be much worse if it were to happen in a more densely populated area. An issue that would be amplified again as building codes in the central US are not as rigorous as in quake-prone California.
Swiss Re said: "Losses arising from the rapidly rising number of human-induced seismic events are largely uninsured or fall into the deductible of traditional earthquake insurance products, which have been designed to protect against a total loss rather than damage arising from frequent small earthquakes."
Swiss Re says the potential impact includes "an increasing likelihood for litigation/class actions against hydrofracking operators, with significant accumulation risks for (re)insurers when events trigger claims on the property and on the casualty side".