David Howden has long had ambitions to be a top player in reinsurance broking, and he is finally in a position to take on the 'Big Three'
David Howden has long had ambitions to be a top player in reinsurance broking, and now - with the acquisition of TigerRisk Partners underway - his eponymous, ambitious, global business is finally in a position to take on the 'Big Three'.
From a timing perspective, last year's failed megamerger between Aon and Willis Towers Watson set the scene for the creation of a "much-needed fourth global player in the reinsurance market".
This will be Howden's first Rendez-Vous experience, and his excitement is palpable. "I'm really looking forward to it. We're obviously waiting for regulatory approval before we can formally complete the deal with TigerRisk, but the two companies are already working together and talking to clients about how we can deliver for them. Monte Carlo is going to be an opportunity for us to really demonstrate that something very fresh and new is being created."
"For a long time now, [reinsurance broking] has been a three-horse race and currently, they [Gallagher Re, Guy Carpenter and Aon Re] control 89% of the reinsurance business and it's been a bit of a merry-go-round," he tells Global Reinsurance in an exclusive interview.
"Finally, there's a really entrepreneurial, dynamic, data and capital market-driven go-for-it business, where the talent can come."
"That is a message we're going to be delivering in Monte Carlo. We want to prove that we can really offer something different to our insurance and reinsurance clients and, therefore, offer something really fresh to the industry as a whole and, ultimately, our clients. It is the final piece in our group's architectural structure and it's incredibly exciting what we're going to be creating by the coming together of Howden and Tiger."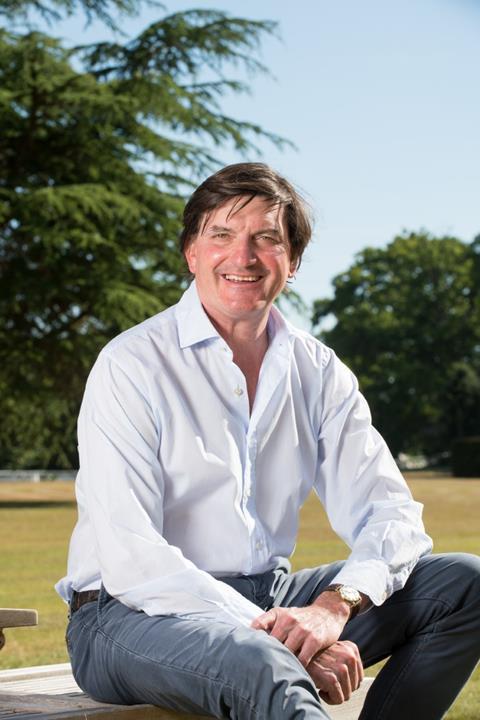 Meeting of minds
Howden Tiger Will be led by Rob Bredahl as CEO, with Rod Fox as Chairman, and Howden Re's Elliot Richardson as Vice Chairman, boasting combined reinsurance revenues of $400 million and employing around 450 reinsurance professionals across the world.
It will sit within the Howden Broking Group and alongside its capital markets business. This is quite deliberate, explains Howden, with the aim of aligning all aspects of the business: brokerage, capital markets, MGAs expected and have capacity behind them.
Having actual 'skin in the game' has shaped both organisations' approach. "Tiger has a very similar DNA to us," says Howden. "Many of the TigerRisk partners have equity in the business and to be blunt, they have built a business around the talent, around their expertise and ability to deliver. And that's exactly what we've done. If you come up as the underdog and have to survive and thrive on your own merit, then you are properly entrepreneurial."
"This isn't just about a reinsurance play. Absolutely not. This is about how we bring together two very successful, highly-entrepreneurial businesses to create a really new force. We're looking at a combined business with around $13 billion of premium, where we're delivering - in essence - end-to-end solutions to the ultimate client. And that's what we must do."
Distribution and capital
Providing capital markets solutions for insurance and reinsurance clients is an area that will grow substantially as the merger with TigerRisk completes.
"We need to access capital in this market to remain relevant for our clients and that can be in the form of traditional capital, insurance company capital, or ILS capital, or even derivatives, which is another form of insurance. What has TigerRisk got? It has its absolutely outstanding capital markets business," says Howden. "We are going to have the number one capital market business that's linked into a brokerage business."
Howden is also a big proponent of the power of MGAs. The company's underwriting arm DUAL has grown substantially, last year acquiring US managing general agency Align Financial Holdings for $800m.
"For Howden Tiger, a lot of the expertise and premium is going to be coming to the form of MGAs," he says. "About 25 percent of our combined revenue comes via our MGA business, not just through DUAL, which is now writing approaching $3 billion in premium, but via third-party MGAs as well."
According to Conning research, the US MGA market topped $70 billion in direct premiums written in 2021, and makes up around ten percent of the UK insurance market.
"What are MGAs really good at? They are really good at innovation," says Howden. "Many of the products that were created over the last 25 years have been created by MGAs."
He points to the development of the cyber, renewable energy and hull war and indemnity market among others.
"MGAs are absolutely critical to maintaining the relevance of our industry to our clients. They're great vehicles for non-traditional capacity to access the insurance market and for traditional insurance capacity to join forces to collectively cover risks they might not want to take on individually."
Remaining relevant
The shocks of the past two to three years - or the 'three Cs' of conflict, climate change and COVID, as Howden calls it - have demonstrated the volatile risk landscape facing the industry and the demand from clients for solutions that protect them from this volatility.
Risks that are potentially systemic, such as cyber and pandemic, require significant capacity behind them, thoughtful wordings that will respect the 'promise to pay' and an ability to collaborate with the public sector where necessary, he thinks.
Lessons must be learned from the COVID-crisis and litigation surrounding denied business interruption claims. Ultimately, clients want to be protected from outcomes, not risks, he says. Commercial buyers do not relate to the traditional manner in which the industry buckets its risks into classes of business or the annual renewals cycle.
He references Airbus, which earlier this year announced the aircraft giant had put aside a substantial $10 billion cash reserve to insure itself against future crises and unforeseen losses. This reflects badly on the industry and its ongoing relevance to clients, thinks Howden.
"As the world becomes more and more uncertain we have got to create a long-term partnership with our clients to work out how we build resilience and help them retain value," he says.
"It's about the power of insurance to help provide answers and to help businesses move risks off their balance sheets. If we're not remaining relevant or thinking, well, the risks have changed and therefore, we need to come up with new products, then I do worry that the role of insurance is going to fade a bit."
"Markets need disrupting to give us all a bit of a kick up our own backsides, to make sure we actually stay relevant," says Howden. "Disruptors are good for us."
Read more of this exclusive interview in our annual edition of Global Reinsurance