Alongside a strong culture focus, the reinsurance broker is also 'born digital', homing in on cloud-based tech rather than '30-year-old legacy systems', says global chief executive
Reinsurance broker Lockton Re is positioning itself as a "challenger broker" that is "fixated on culture" as its headcount reaches 300 staff across 15 global offices, just three years after the business was first established.
This is according to Tim Gardner, global chief executive of Lockton Re, who was addressing trade press during a roundtable briefing at Rendez-Vous de Septembre on 12 September 2022.
He said: "One of the great benefits of being a private business is that in our mind, we get to reshape what we prioritise and what we care about.
"We care about three things principally – hiring the best people we can possibly find, the culture that we're creating and wrapping the group around and we care about giving them leading-edge tools and capabilities to compete. [These] are what we think of as the inputs in the business.
"The good news is when you get those inputs right, the outputs take care of themselves – we are well ahead of our plans in terms of our growth in really every facet. That's headcount, capability, client count, revenue – so all of it is proving to be a pretty simply mousetrap."
Gardner added that the quality of Lockton Re's growth is also important to him – this means he is "selective" and "proud" of the broker's client base, which consists of "blue chip" and "leading" companies.
Technology as a leveller
A further "cornerstone" at Lockton Re is that the business is "born digital".
For Gardner, this means not planning "to repair 30-year-old legacy systems", but rather "starting with very modern technology" that is cloud-based and supports both client-facing and back office functionality.
Gardner added that back office technology that builds efficiency into workflow processes helps Lockton Re's teams "spend more time with clients".
"That's a spend that's been really important to us and it will bear significant fruit," he added.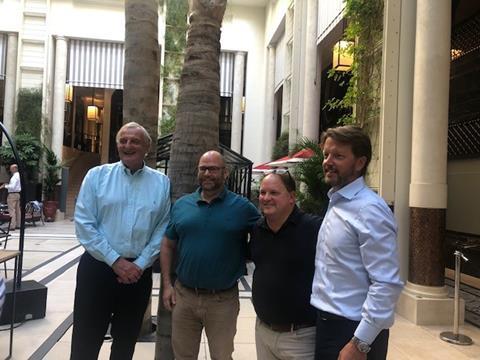 Lockton Re's chief executive of international, Keith Harrison, agreed that "technology has been quite a big leveller" as the "reinsurance broker world is changing hugely".
He continued: "In the past, analytics and technology were the domain of the bigger brokers and that was often a barrier to people moves to the smaller or mid-sized brokers.
"Now, technology's a great leveller and not having legacy systems to deal with is a huge, huge advantage that we've had.
"We've built out our analytics side and our processing side with digital technology, starting with a blank canvas."
International furrows
As for Lockon Re's international business, Harrison confirmed that this currently has offices in the US, Bermuda, London and Zurich. In London, the broker currently has 162 staff – an uptick from the 20 employees it had two and a half years ago.
Despite this evolved global reach, the broker is "not in a desperate hurry to plant flags down in every territory around the globe" because a "huge amount of reinsurance relationships come out of the territories that we're in already", Harrison added.
This doesn't mean the business would ignore "the right opportunity", however.
In terms of the international division's London-based lines of business, Harrison noted that these include property and casualty (P&C) capabilities, a "sizeable" marine and energy team with ex-JLT staffers, international casualty, remediation, North American P&C treaty, retrocession and London market property specialty.
Healthcare – in particular US medical malpractice – is a "big focus" for Lockton Re too, Harrison added. He said he would not be surprised if Lockton Re was the number one broker by client count in this line of business.
Other areas Lockton Re has a "large play" are specialty lines, political risk, credit and terrorism.
Describing the strategy for the international business, Harrison said: "What we're doing is just ploughing those furrows of the different classes of business that we're in just a bit deeper."